Garden trees and shrubs: list, features of care and reviews
If you are the owner of a country house or a large private house, then surely you were faced with the question of which trees to plant in the garden plot. Then this article is for you. Today we will provide you with an overview of the most popular garden trees and shrubs, as well as give tips on caring for them. So, let's start with the most sought-after representatives of the flora.
Classification of garden trees and shrubs
Before planting a site with one or other garden plants, it is worthwhile to designate their purpose. Traditionally there are two types:
If you plan to use the plot for harvest, then you should make a choice in favor of the first type. And the second type is suitable for those for whom the garden is a place to relax and admire nature. The following sections take a closer look at each type of garden plant.
Fruit trees and shrubs
So, you decided to use all the resources of the site for a rich and tasty harvest. Then this section is for you.Let's start with a list of the most popular garden trees: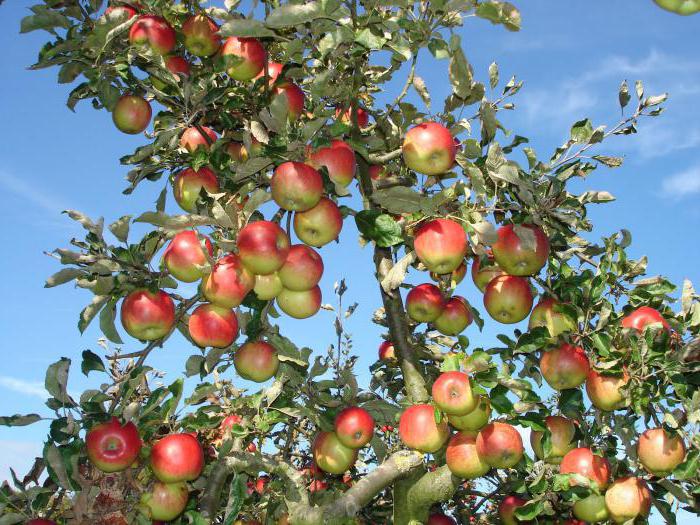 Apple tree. At almost every site you can find at least a couple of such fruit trees. And in order to enjoy the fruits almost all year round, plant 3 varieties of apple trees - winter, summer and autumn.
Pear. Juicy ripe fruits of this tree must be on your site. After all, these fruits - a storehouse of essential vitamins.
Cherry and sweet cherry. Due to the short period of ripening and juicy fleshy berries, these are the favorite cultures in our country.
Peaches and apricots. Especially favorite trees in the southern regions of our country. Incredibly tasty jam, compotes and liqueurs - all this can be prepared from juicy and ripe fruits.
Plum. Traditional culture on any site. Berry, from which you can make jam or prepare it for the winter in the form of dried fruits.
Fruit shrubs are as necessary on the site as trees. Be sure to place in his red, black and white currants. After all, you can use not only their berries, but also fragrant leaves, rich in vitamin C. Gooseberries, raspberries and barberries are also popular among gardeners in almost any region.Slightly less often you can meet shrubs shadberry, dogwood and honeysuckle.
The combination of fruit plants among themselves
Planting a garden with fruit crops should be treated with particular responsibility. After all, it is important not only to choose a variety of trees or shrubs, but also to take into account their comfortable accommodation on the site. Very often inexperienced gardeners, wanting to plant the land with a large number of crops, absolutely do not care about their combination with each other. But not only the quantity and quality of the harvested crop directly depends on the rational planting of garden trees, but also the health of garden trees in general.
A special remark can be made about the walnut tree. If the climate of your region allows you to grow this plant, then be prepared for the fact that it is necessary to allocate a fairly large area for it. Due to the high content of tannins in its leaves, the soil at 18-20 m around it becomes unsuitable for growing any other trees and shrubs.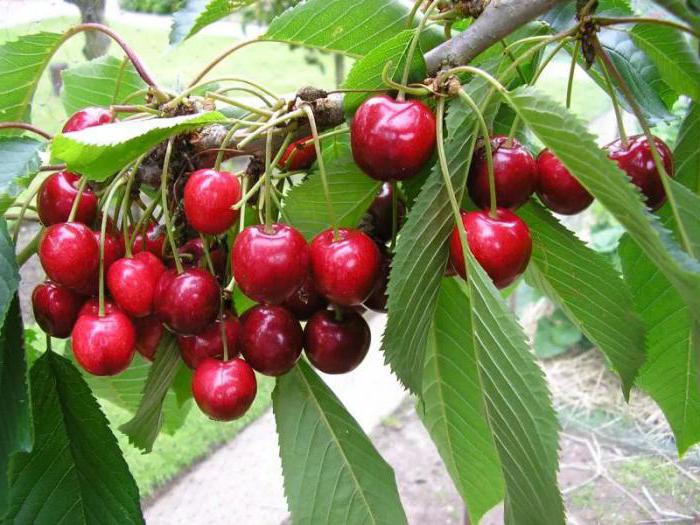 Not the best neighbors will be apricots with cherries, as well as peaches with cherries. Despite the similarity of cultures among themselves, these trees should not be planted at close range from each other. Also, the cherry does not tolerate the proximity of pears and apples.
Planted raspberry bushes should be away from apple and pear trees. Hawthorn bushes do not tolerate neighborhoods with cherries.
Quite a capricious pear. Besides cherries, it also does not adjoin to cherry plum, barberry shrubs and raspberries.
Caring for fruit trees and shrubs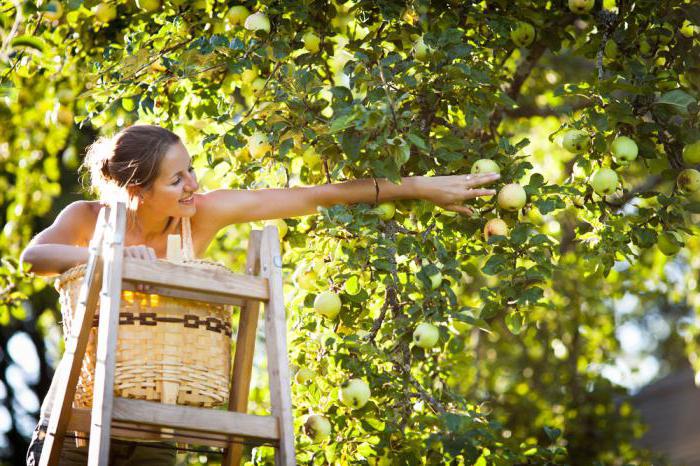 Like any fruitful culture, trees and shrubs require timely and proper care. One of the most important roles in this is the pruning of garden trees. It is thanks to her that it is possible not only to preserve the proper appearance of the plant, but also to prolong its fruiting period. Gently removing excess branches, you can achieve the appearance of gaps, which will allow the sun to cover a greater number of fruiting shoots. This means that you will increase the chance to get a rich and healthy harvest.
Removal of old plants
Sometimes, acquiring a plot, you can find old, dried trees and stumps on it. In this case, it is necessary to make a full release of the site by cutting down garden trees and uprooting stumps. To date, there are many organizations that can facilitate your work. But if you wish, you yourself can clean your site.
How to do it? There are no special requirements for cleaning the site from unsuitable plants.It is necessary to cut an old tree as low as possible - it will be easier to remove the stump. And this is just necessary. It is imperative to remove stumps, as they are an excellent breeding ground for fungal diseases and pests.
Diseases of garden trees
Fruit trees are quite susceptible to various diseases. In this section, we will show you how to recognize these diseases, and give tips on how to combat them.
Rust. It appears as numerous patches of brownish or brown color on the leaves and contributes to their early fall. You can fight this disease by immediately removing infected areas.
Cystosporosis. With this disease, small wounds form on the tree, from which gum-like resin oozes. It is dangerous because other diseases develop very quickly in such places. Therefore, it is necessary to promptly remove the affected branches and close the damage to the garden pitch.
Scab. A common fungal disease that affects both young shoots and ripe fruits. Learn this disease can be on the greenish-brown spots that appear on the leaves and fruits.Fighting scab is quite simple: carefully dig the ground around a tree or shrub, and burn leaves in the autumn.
Mealy dew. It is characterized by a white powdery coating on shoots, leaves and fruits. There are other signs. With the progression of the disease stops the growth of shoots, drying and falling leaves occur. To combat powdery mildew, spraying with boiling water or soda ash solution is performed.
Anthracnose. Most often, the disease manifests itself at high humidity and looks like brownish sores on the stems and leaves. As the disease progresses, the leaves of the garden trees curl and fall. The main method of fighting the disease is the timely detection and immediate destruction of infected plant parts.
Ornamental trees and shrubs
To create a harmonious view of the territory of your garden, it is best to seek the help of a specialist in this matter - a landscape designer. It is he who will tell the optimal combination of certain trees and shrubs, which is suitable for your site.In general, planting ornamental plants is reduced to emphasizing the relief of the territory and creating compositions that emphasize all the advantages of the garden.
Features planting ornamental plants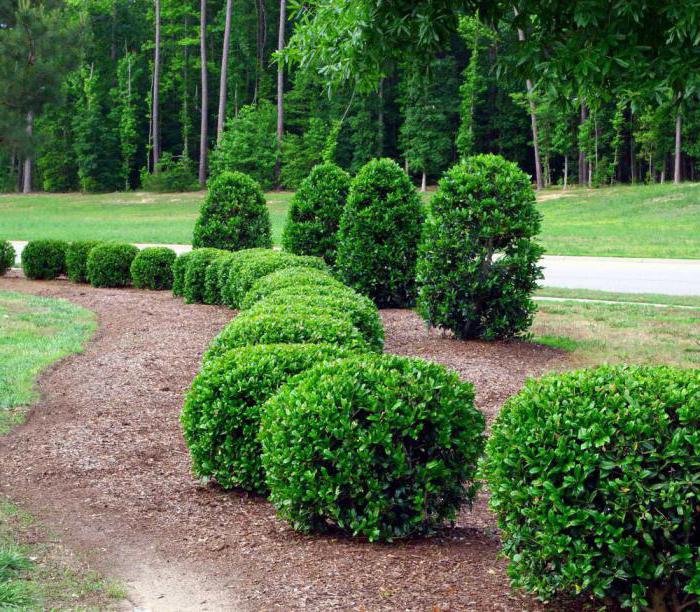 The main principle of landscape design is landing on the principle of tiered. This means that you should not mix trees and shrubs in any order, but it is necessary to plant them along the height of plants: from low to high or vice versa. Be sure to take into account the light and shade of the plant. Also, when creating a composition, it is necessary to pay attention to the seasonality of trees and shrubs. That is, each composition group must perform decorative functions throughout the season.
Popular ornamental trees and shrubs for the garden
Every year the range of these plants is growing incredibly fast. We will give a list of the most popular and least whimsical in the care of trees and shrubs, with the help of which you can decorate your garden plot.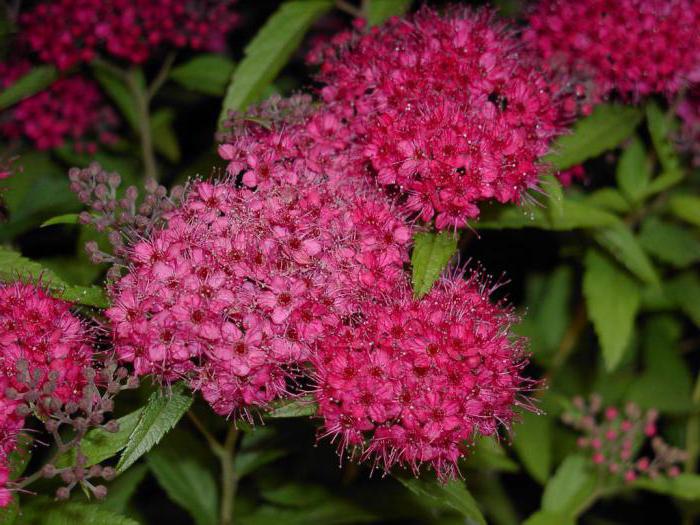 Spirea. A hardy plant, covered with white or purple flowers during the flowering period. The height of the bush reaches one and a half meters, the diameter is about a meter.The only requirement in the care - timely pruning.
Maple. Virtually any maple variety will look decent on the territory of your garden. Particularly beautiful is the combination of several varieties of this tree in one composition. The photophilous plant, which does not require pruning, grows to a height of 6 m and has a crown of approximately the same diameter.
Forsythia. Incredibly beautiful shrub with golden flowers and blue primroses. In height and diameter, this plant is able to reach three meters. Forsythia is light-requiring and unpretentious in care. The main requirement, as in spirea, is pruning shoots.
Hibiscus. Shrub height and diameter of about two meters, covered with fragrant bright flowers. Perfect for creating compositions, as well as for a single landing. Hibiscus love for the widest range of colors and a variety of varieties. The only disadvantage is poor resistance to cold.
Decorative apple tree. From this tree one should not expect a big harvest of tasty fruits. It is valuable for its appearance. Especially during the flowering period, when the tree is completely covered with white, pink or red flowers.However, these varieties have their disadvantages. Ornamental apple is prone to diseases such as scab and powdery mildew.
White acacia. Sun-loving and moisture-loving plant has gained its popularity due to the abundant flowering and stunning fragrance of flowers. Mostly trees grow to 25 m, but there are also lower varieties - about 6 m high.
Conclusion
Today we introduced you to the most popular fruit and ornamental garden trees and shrubs, and also told you how to combine them. They shared information about planting and caring for seedlings, as well as the features of removing old and unsuitable plants.
Related news
Garden trees and shrubs: list, features of care and reviews image, picture, imagery