"I remember, as I understood, that we would not all come out from there alive": the memories of the 'Nord-Ost' hostage
15 years ago there were tragic events on Dubrovka in Moscow. A group of terrorists led by Movsar Barayev took the spectators of the musical "Nord-Ost" hostage in the building of the House of Culture OJSC "Moscow Bearing". For almost three days they held 916 hostages, demanding the withdrawal of federal troops from Chechnya. Early in the morning of October 26, the searchlights illuminating the main entrance went out, and the sleeping gas was pumped into the building. An hour and a half later, representatives of the FSB announced that as a result of a successful assault, all the terrorists were killed and the hostages released. According to official figures, 130 hostages died, more than 700 were injured.
One of the survivors of that tragedy is Alexei Kozhevnikov. At the request of the blogger Sergey Uchvatov (his company Global Media Group is developing and promoting websites), he described the events of those days and answered a few questions.With the permission of the author BigPikcha publishes this piercing material.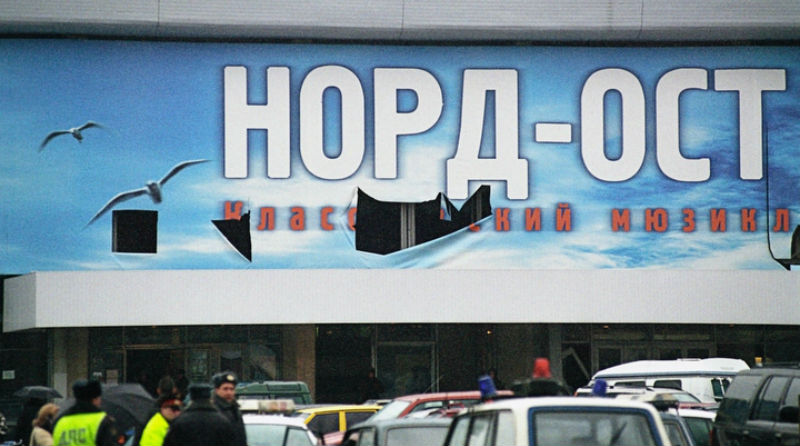 Photo: Dmitry Korobeynikov / Russia Today MIA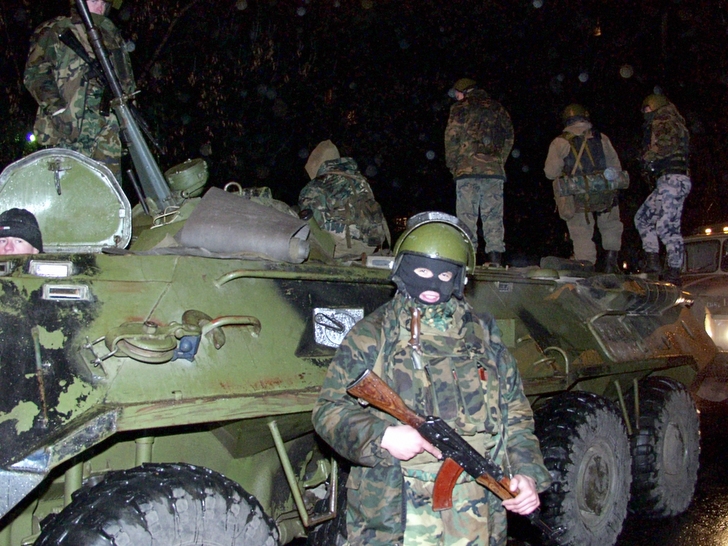 Episode 1
For me, those events began in June 2002. That year, a chain of random events led me to that building and that evening with inexorable inevitability (refer to the below mentioned anecdote told to one of the terrorists).
In 2002, the Youth Olympics were held in Moscow. Our company worked 99% of the markets (Luzhniki, Cherkizovo). Accordingly, these markets for the Olympic events were closed. In fact, we had nothing to do for two weeks, and the company went on vacation. I took this opportunity to find a ticket to Altai, to the mountains.
In that campaign, a number of mystical events occurred that helped me to overestimate the path of life ... What is this all about?
From the trip I came overflowing with vital energy. Impressed, I began to study the mystical aspects of the cultures of Northern Europe and the neighboring - Celtic - culture. That led me the same summer to the festival of Scottish culture, where I met my future wife. This acquaintance did not leave me any choice, and I signed up for a company with her to the Irish dance school "Iridan".
What does the Irish dance? What does this have to do with Nord-Ost?
The most immediate. The rehearsal base of Iridana was located at that time in the building of the House of Culture of the Moscow Bearing Plant - this is where the musical Nord-Ost will take place, which will give the name to the famous sad events. Thus, it was not a mere coincidence of circumstances that led me to this building, but a chain of events - by and large, I had no chance to avoid getting there.
So. October 23, 2002, Wednesday. The usual dance hall. About thirty people were studying us that day.
Episode 2
30 pairs of legs, shod with steppe Irish shoes, beat threes and fours, some in the forest, some for firewood. The noise is incredible. Zastrochit near machine gun - no one will hear. The doors to the hall are open. A ballroom studio runs along the corridor (the building has already been captured). Who is running in what, the things in their hands ... None of the runners, running past the open door, makes an attempt to tell anything. Where are running? Why run? A thought slips through my head: they are late for a performance somewhere. The building is theatrical.
We are not to be distracted by running people, what are we doing? That's right, we close the doors and calmly continue to tap out the training exercises. The roar of the feet drowns out all external sounds, including shooting.
Photo: Dmitry Korobeynikov / Russia Today MIA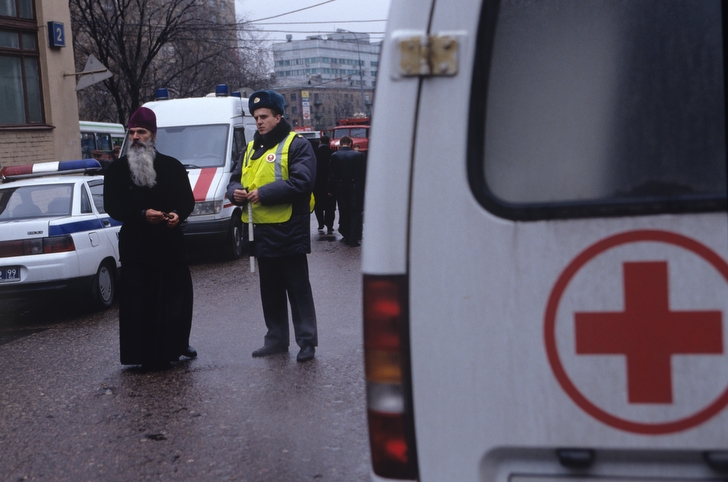 Episode 3
The bell rings on the headmaster's mobile phone. He mutes the music, responds, says into the phone: "What? ... It can't be. No, everything is fine with us ... In which building? "Then, confused, she goes out into the corridor. As in a good dynamic performance, synchronously with him, when he comes out of one door, two people in masks and machine guns enter the other door. Complete surrealism ... Push Igor back. There is a shot at the ceiling - everyone is falling to the floor, I remain standing in the middle of the room with a stupid smile on my face. In my view, what is happening is someone's joke. We are in a theater building. Plus, the bell, after which Igor comes out synchronously and people in masks enter, gives confidence in the raffle. On both sides, our girls are pulling me down, and I stand and glade at a terrorist. He is already beginning to nervously poke my machine gun at me, while doing a favor, I play along to the joke - I squat down and lay my hands behind my head ...
Later, communicating with our girls, I find out that only I considered the shot to be single. Most of our people have whipped whitewash from the ceiling, and they immediately had the conviction that it was not a joke.
Episode 4
We are driven along the corridor to the main hall. I have no shoes on my feet, only socks. That day I forgot the dance shoes, and in sneakers it is extremely inconvenient to beat the tap. A man in a mask shoots at a glass door, in my head: "Here are fucking jokers, they are driving barefoot through broken glass."
Episode 5
They drive us into the hall. Seated on the last rows. Marinka is two rows ahead. I really want to transfer there, but I do not know how to do it ...
It takes a little time. The girl from our dance group begins to freeze, I give her my T-shirt. Terrorists explode emotionally, start yelling at me at a mixture of Russian, Arab and Chechen. From all this, I understand that I violated the dress code according to the Koran, according to which a man should not expose the torso in the presence of other women. Forcibly put on a jacket of one of the terrorists. My objections, they say, give the jacket to the girl, and I don't wear my T-shirt, they don't react ... (After the events, I understand that this jacket I was almost worth my life at release: all the masked men came in identical black jackets, this they put a jacket on me and made me appear to outside observers that I was one of the terrorists.)
Photo: Vladimir Vyatkin / MIA "Russia Today"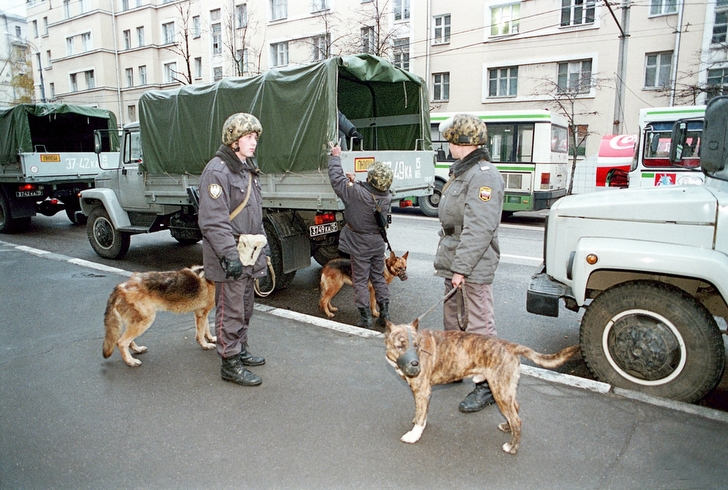 Episode 6
A drunk girl enters the hall from the side door. She behaves absolutely irresponsible, swears at the assembled spectators and terrorists, through the word slips mate ... The girl is very rudely pushed through the front right door in the foyer, after a minute shots are heard. One of the terrorists returns to the hall and reports that she was shot and so will be with everyone who will not obey their requirements. I still have conviction in the unreality of everything that is happening: if they wanted to shoot, they would have shot before our eyes (I didn't know that the shooting scene was visible from the front rows).
Episode 7
The terrorists began to free the most back rows for their rest. I was able to move to Marinka.
At the same time, the mining of the hall began. In my head I was just spinning: "Here are bastards, television crews, staged" Behind the Glass "here, and after all, someone will be at work tomorrow. What do they allow themselves? I'll receive cargo at the customs office tomorrow! "It's funny to remember
Episode 8
Among all the terrorists stood out alone. What stood out? The fact that he went without a mask and without weapons. He played the role of a "good cop" and, sitting down in different corners of the auditorium, relieved pressure.He spoke to people. He said that they personally do not want us bad. As soon as our government decides on the withdrawal of troops from Chechnya, they will release us all ...
They called this "good man" Yasir. He was not a Chechen. He was an Arab who had graduated as a medic in Rostov (if I remember correctly). As I understood it, his task was to calm people down and not to allow in any case a spontaneous panic that would lead a crowd of hostages out of the dull submission to a handful of terrorists.
So here. Since we were actually sitting near the terrorists' rest area, Yasir approached us more often than others. In one of his approaches, he began to tell us that everything would end well, that they would let us go and the like ... To this I answered him with a parable-anecdote:
"A large passenger liner is in the midst of the sea-ocean. All passengers and crew are rushing around, boats are mysteriously unsuitable for rescue. Everything is in a panic, and only one passenger in his expensive and luxurious cabin prays to God and addresses Him with the words: "God, I am a great sinner! I killed my father, betrayed my mother, poisoned my brother, I cannot enumerate my sins towards strangers for hundreds of years ... God! Why do you ruin the whole ship, when you can just break off the ceiling beam,so she killed me! Why are you killing another 2,000 people? Surely it's not easier for you to kill only me ... "So this sinner prayed until the last minute of the ship's life. An instant before sending the ship to the bottom, God condescended to answer: "I, you bastards, drove around the globe on this ship for 5 years!"
I told this parable to Yasir. He turned gray with his face, got up and, without looking at me, left ... He didn't come up to us anymore, and I got the impression that he was going to the recreation area later, trying not to walk past us.
Photo: Alexander Polyakov / MIA "Russia Today"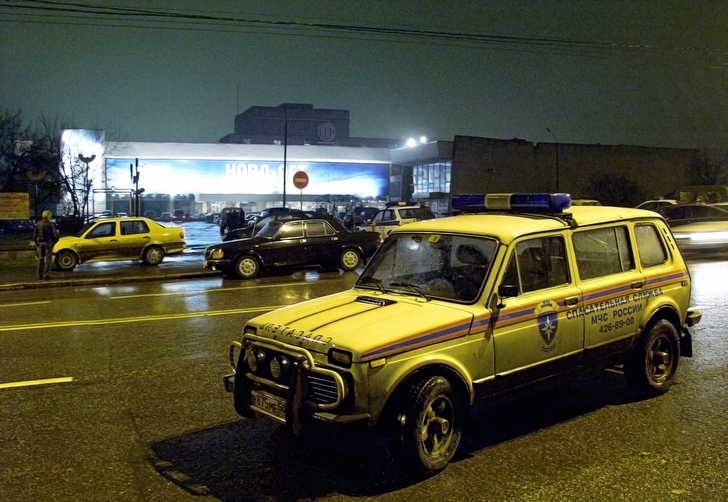 Episode 9
Restroom. The "need" trips were a special test for us. We went to the orchestra pit ... By the end of the third day there was more than an ankle-deep sewage ... Let me remind you, I was in my socks all this time, because I forgot the dance shoes. A vivid memory.
Episode 10
We immediately selected cell phones. Sometimes, in order to create information noise and to disguise the terrorists 'communication, cell phone numbers were distributed to the relatives of the hostages, whom we had to urge to go to rally" against the war in Chechnya "... In reality, it was the best way to hide information aboutto whom, and with what terrorists phone call for instructions ... Weight calls unclear who owned phones is unclear what numbers. Go figure out what cipher you can hide the information in this mass of calls. After a similar session, all the phones were selected.
The second joke is connected with the phone call home, which my brother told me on the phone. "Lech! - he said to me. "You are in the test version of the counter-strike, now you can fight not only for terrorists and special forces, but also on the side of the hostages!"
This is the black humor in our family 🙂 Then I learned that in those days he was actually crying all the time. I can not imagine him crying, but inclined to believe friends who supported him and his mother at this moment.
By the way, since the relatives of the victims have started talking ... It is worth mentioning the moment associated with human greed and an attempt to cash in on the grief of relatives. That evening, when we were captured, the parents and brother were at home. On TV, they interrupted some program and launched urgent news about what happened. My brother immediately said: "This is the building where Marinka and Leshka are dancing!" They tried to call me ... They said on the newsthat in a nearby vocational school they organized an item for the relatives of the hostages, and mom and brother went there in the middle of the night. As soon as the "bombed" learned the reason for which they are traveling, this tax bastard raised the price 10 times more than usual. The fact that the driver did not kill my brother is an accident. In general, these bastards need for this, too, to throw under the barrel and play roulette - shoot or not shoot ...
Photo: Dmitry Korobeynikov / Russia Today MIA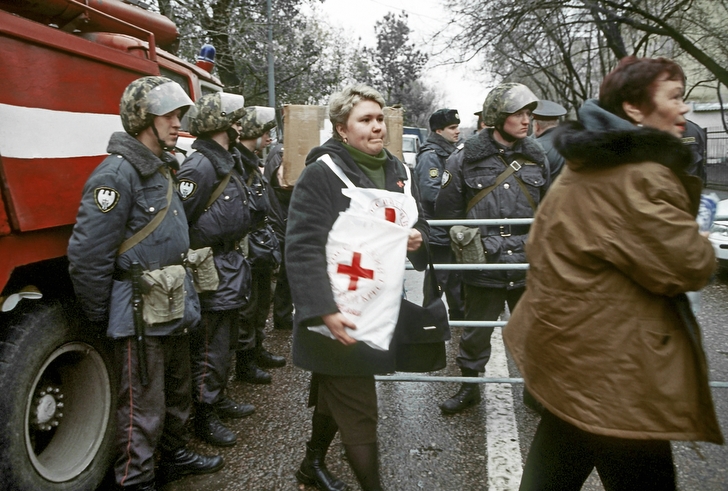 Episode 11
Removing masks. At what point I stopped realizing that this is not a joke, that this is really terrorists, I do not remember. Probably somewhere around 12 hours in one seat. But I clearly remember the change in the realization that we will not all come out from there alive.
By the end of the second day, the terrorists completed the installation of explosives in the hall. The explosive was everywhere: under the seats, and in the aisles, and on top of the balcony ceiling. The affected area is 100%. In the event of an explosion, no one would have escaped ... So, the realization of hopelessness and death came when all the terrorists took off their masks, that is, showed their faces without fear that someone would continue to pursue them. They showed that they had already died here and now.
Episode 12
On the third day, from nerves and responsibility for the Irish dancers, Igor Denisov suffered from peritonitis of the pancreas. Igor was gray-green and constantly moaning. Often falling into unconsciousness, he lay on the floor in the passage behind us. I am still ashamed that I offered the terrorists, if they don't want to give him to the doctors with Roshal, to shoot him so that he would not suffer. Thank God, they didn't shoot him ... It's hard for me to look at Igor now, to realize at the meeting that I then offered to shoot him, as with peritonitis he would have died a few hours later, only in wild agony. Igor then had children. And the hardest thing for me to realize is that I was actually ready, if I were given a pistol with one cartridge, to kill him myself. This is the scariest memory of Nord-Ost.
Episode 13
I did not sleep for three days, and therefore my mind was in some kind of shifted state, without a feeling of the current time.
At some point, one of the spectators could not withstand the psychological pressure and, seizing a plastic bottle with water like a club, rushed at the terrorist who was sitting by the main bomb in the hall.He ran on the backs of the chairs ... I do not know what would have ended a successful race. But in the end, one of the ram hostages grabbed him by the leg - the guy falling down just threw the bottle at the terrorist, and very successfully stunned it ... They started shooting at the guy from the stage, they did not hit him. Someone was killed, someone was wounded ... The guy was dragged out of the auditorium, and a burst of gunfire rang out. The whole room flapped. The terrorists shot at the ceiling to calm everyone down. The herd is once again under control. It is hard to be aware of yourself as part of the herd, looking back in time.
Photo: Vladimir Vyatkin / MIA "Russia Today"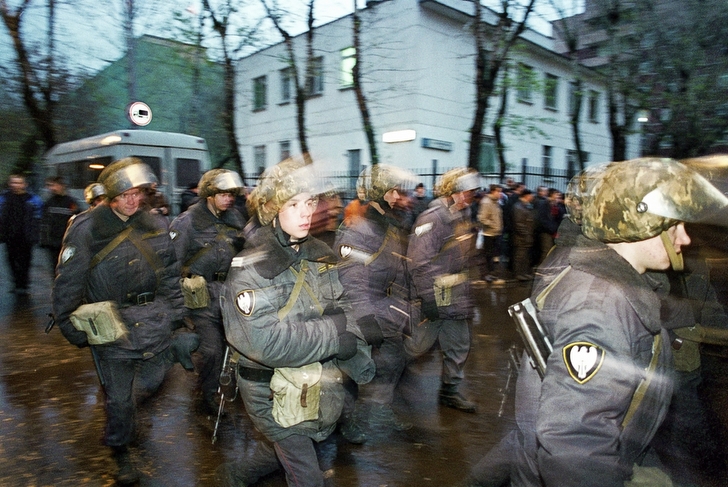 Episode 14
Considering that I didn't sleep until the gas was launched for three days, I don't remember the moment of the assault ... The girls, who did not lose consciousness, then told me that the yellow gas had gone. But by the time gas appeared, almost everyone was already out of service. Only a few people were able to rise from their seats and try to leave the hall, but were driven back, as the battle was going around.
My episode of memory is the moment of awakening after the assault (I remembered this already when memory was restored). It seems everything is over: I see a half-empty hall, people are being carried out, terrorists have been killed.The Alpha fighters take photos of the murdered terrorists ... Clutching at me from two sides, Vika and Marinka are sleeping (only because of this I was not shot as a possible terrorist, because I was wearing an action jacket, worn on my first evening). I think: "Thank God, it's over ..."
Episode 15
I open my eyes. The world is upside down ... Before the eyes in the ass in camouflage: it is removed, it is approaching ... Someone carries me up the stairs. Consciousness goes away ...
Episode 16
Through the veil of non-existence, a leaning, unshaven face of a Caucasian appears, striking me hard in the face and sentencing me: "Tales of kak tebya are called! Slava hotter nybud! "
Consciousness refuses to understand. It seems to have seen all the terrorists dead ... But, damn, there was a camouflage ass ... Does this all go on? Did any of the terrorists, fleeing, grab me as a shield ...
Caucasian face is moving away. In the eyes of a very bright light emanating from the lamps, which are located in a circle and for some reason directed directly at me. The face of a Slavic girl appears. She is trying to convey something to me ... I understand that I need information about me and how to contact my relatives ... I understand that the people who surround me are wearing medical clothes.An awkwardly minted phrase flies out of me: "Kozhevnikov Alexey Valerievich, born in 1976, I live at the address: Moscow, <...> Street, home phone: <...>". If I had any private number, I think I would add it to this report.
The doctor turned out to be an Ossetian. In this hospital, almost all doctors are Georgians and Ossetians. Thank you so much for you. Thank you for saving lives. And please excuse us that often in everyday life we ​​think of nationalistic patterns.
Photo: Alexander Polyakov / MIA "Russia Today"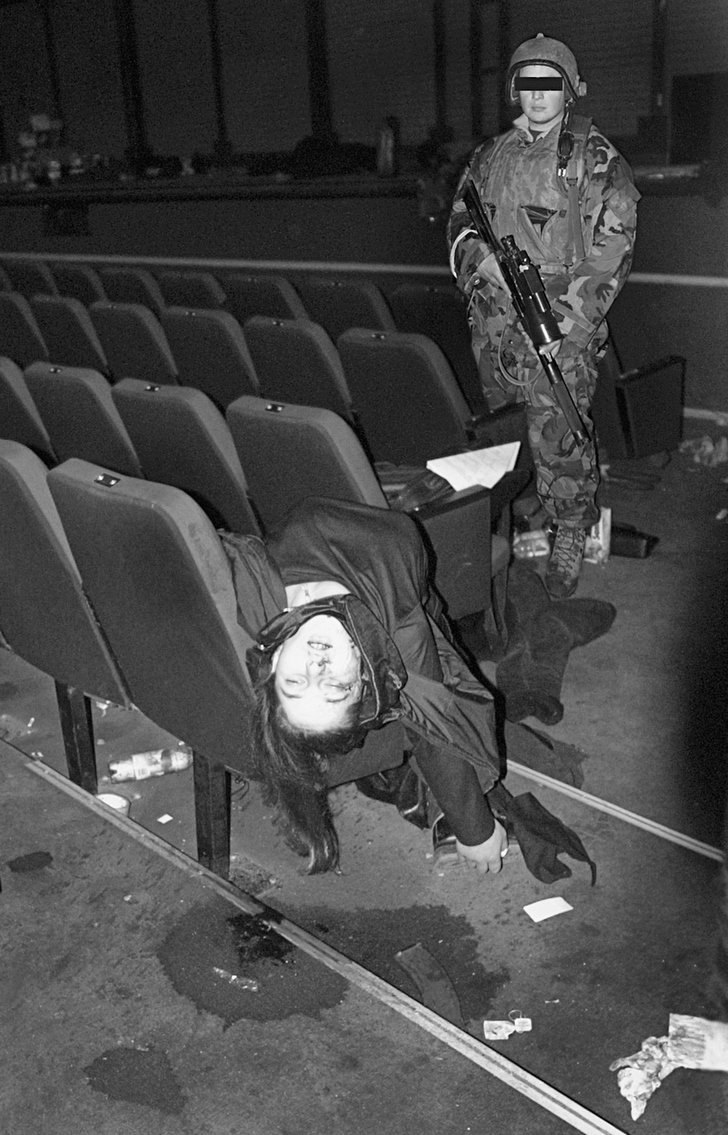 Episode 17
I open my eyes. I lay under the sheet in the ward. From clothes on me only socks in the stool from the orchestra pit and Altai amulets. All clothes, cut, lying around. I am wrapped in a sheet, go out into the corridor. Crowded, vanity, the sick who in what. The nurse says that I can call home from the elevator hall. I walk like a ghost wrapped in a sheet, to the elevator. There is an old phone hanging there. I think where to get a coin. Someone says that phones work without coins.
I called home ... The tube is taken by a friend from Ekaterinburg. I don't understand where I'm calling. She calls my mom - mom can't talk from tears and hands the phone to her brother.I have a question after a question ... I ask: "Is everyone alive?" I do not believe. "How is Marinka? How Natasha? How is Vika? How is Andrei? "Brother assures me that everything is fine with everyone ... I hang up the phone. I turn to the door, I think: "We need to call home." That has just called, has already forgotten. I call, brother picks up the phone. I immediately tell him that I am alive, and I begin to elicit, everything is alright with my friends ... His answers seem tense to me, I think that he is deceiving me - it was impossible to get out of that hell alive ... My brother does not stand up and says that I call home for the fifth time, that everything is really all right with my friends, and the tension is only because it is difficult for him to answer for the fifth time ...
I tell my brother that I do not remember from which chamber I came. What he says to me is a reasonable thing, they say, go to any - all of them are there and no one remembers ... I go, but I go to the women's ward. A nurse comes up and takes me to my room.
Photo: MIA "Russia Today"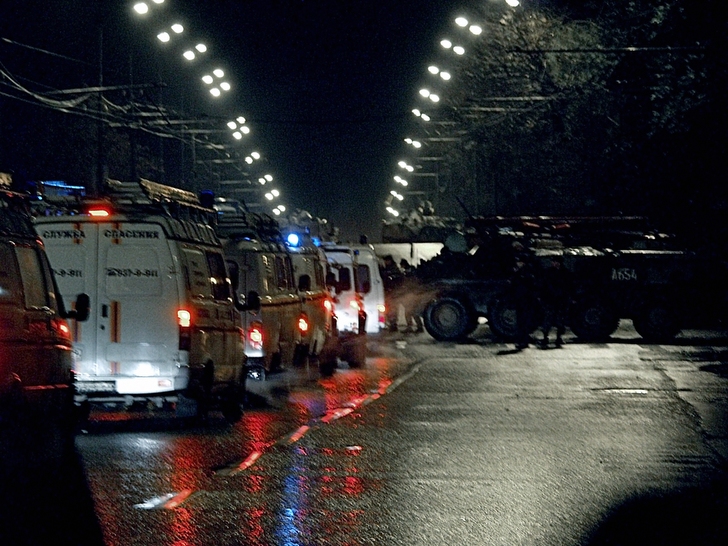 Episode 18
Discharge from the hospital the next day. Honestly, I can hardly remember ... I only remember a lot of people, a lot of cameras, a comprehensive love for all people ... And the wildest hatred for journalists, because in the hospital we already managed to watch that nonsense that was carried through all channels still from the west.The fact that all Russian channels suffered from verbal diarrhea, is generally unnecessary to mention. When I left the hospital, it happened to turn up Ukrainian journalists. I don't remember what seemed suspicious to me in the questions asked, but I didn't break the camera to them just because my brother kept me. I remember only wild irritation and readiness to tear all information speculators to shreds ...
Episode 19
Already on Monday, that is, the day after discharge, I went to work. All with the same sense of total love for people. He shared with everyone the joy of surviving and continued to fulfill his official duties. I also went to work on Tuesday. But on Tuesday evening, I sit and understand that I don't remember either Tuesday, Monday or Sunday ... I remember only very small excerpts from these days. I remember talking with people, but I don't remember at all what it was about. And work is connected with negotiations. Notebooks never kept, why? And so he literally remembered everything, twice he heard a set of numbers forever sitting in his head ...
Dark autumn evening. I'm sitting in the office with a telephone receiver in my hand and don't remember who I just talked to. Terror pierced me.In one minute, I realized that the brains I was quietly proud of are no longer my pride. I was scared that when I left work I would not get to the house, because I would forget who I am, where I live, where I go ... My fear made me call home, and, explaining that with me and my memory, ask me to take me work. The next few days I traveled around Moscow only with accompanying persons. I am very grateful to my friend from Yekaterinburg, who came to support our family and me during these events. She actually performed the role of a Moscow guide in the few days until I went back to the hospital.
Photo: Dmitry Korobeynikov / Russia Today MIA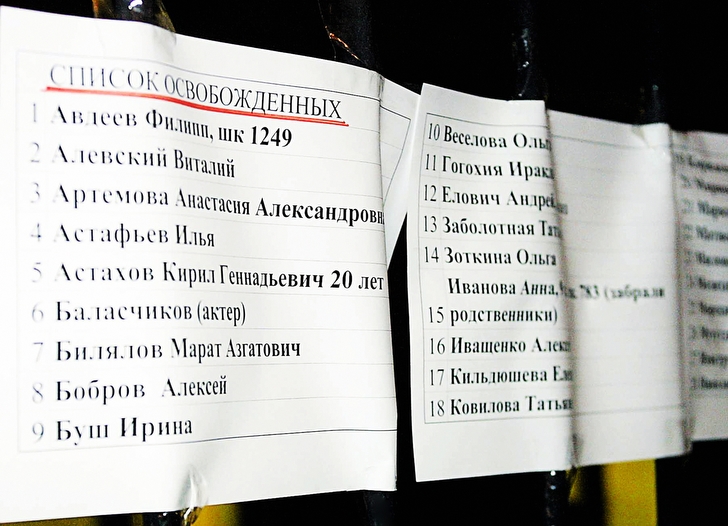 Episode 20
From the moment of the assault until November 7, I remember only episodes. I remember that during these 10 days I got under cars twice. I remember the feeling of an absolutely empty head, when the only thought was a persistent thought to think about something. A wild feeling for a person who has always had at least two or three streams of thoughts, to realize that your head is empty and doesn't think about anything ... Now I think, but I think only in a scant one. There are only vague memories that you can think fully.Although doctors tried to reassure that a constant flow is not peculiar to people and that going more than one flow is not the norm ...
Episode 21
Mysticism with cars knocking me down manifested itself fully at customs, where I went to transfer the affairs to another employee of our company. There I was hit by a truck in a place where it was virtually impossible to drive a person. The action took place between customs warehouses, the distance between them is about 50 meters, the cars drive in the middle. We walked along the warehouse when I felt the strongest blow. It seemed to me - with all the dope fist in his left shoulder. Having flown away to a comrade, I knocked him down. Inertia brought me back - under the rear wheels of the ZIL. I remember well the twin wheels that ride me right on my face ... I do not remember how I twisted. The fact remains: on a very wide (about 50 meters) road between warehouses, the driver knocked down people walking on the very edge, turning on them from a seemingly unknown threat ... A comrade is now afraid to walk on the street next to me. And that day I realized that according to the "bony" lists I should have stayed inside Nord-Ost and the Altai warning was not so much a warning as protection against those events ...
Photo: Pavel Lyuzin / MIA "Russia Today"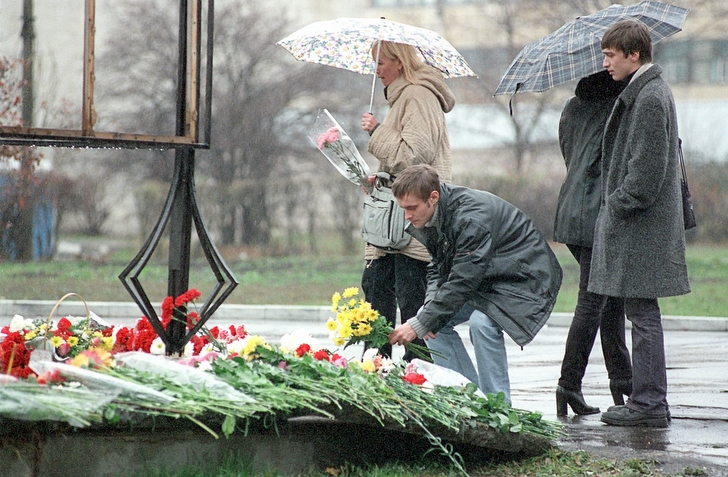 Episode 22
Like all residents of Moscow, if I was traveling from one side of the city to another by metro, I did not disdain to sit down and sleep. Everything changed after Nord-Ost. I stopped sitting in the subway, I generally avoided the sitting positions on semi-soft armchairs, so reminiscent of the armchairs in Dubrovka ... Sometimes when I sat down in the subway, I was not just afraid to fall asleep, I was afraid to close my eyes or just blink. It seemed to me when I covered my eyes and began to fall asleep that now I would open my eyes and find myself sitting in that room at gunpoint ... It is clear that this fear was not abstract, but experienced in the first days after liberation, when out of habit fell asleep. Waking up, I was just afraid to open my eyes, hearing the announcements of subway stations. I thought I was dreaming of the subway, and I was sitting in the red armchairs of Nord-Ost. Fear was gone only three years later, if not later.
Episode 23
The story that began in Altai ended for me with an offer to my wife to marry me. After that, the Altai amulets disappeared, and the runic vision became completely clear and fulfilled. It is a pity that people begin to understand all the warnings and prophecies only after what happened 😉
Photo: Alexander Polyakov / MIA "Russia Today"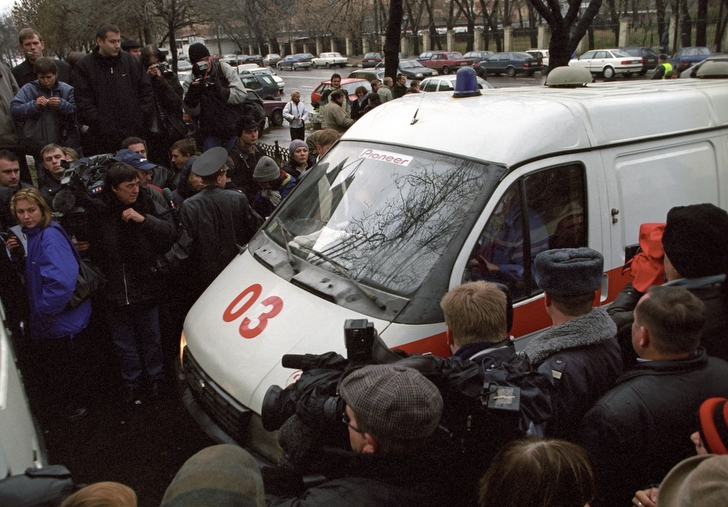 Photo: Vladimir Vyatkin / MIA "Russia Today"
Interview with Alexey
- Thirteen years after the tragic events, how often do you remember October 2002? What was the most difficult for you personally these days?
- I remember ... It was difficult not there, it was difficult later. It was understood that the brains and memory remained in that room. I then spent three months rehabilitating with a memory recovery course.
- How did people behave in the hall?
- People in the hall behaved like a flock of sheep, herded together by shepherd dogs. I made one understanding for myself: if you are threatened with a weapon, do not be a sheep. Use a weapon aimed at you, against any dog ​​that sent it to you. It is better to die right away than to shake and hope for a miracle. Miracles happen, but extremely rarely - why passively wait for a miracle when everything is in your hands.
- Was there panic or was everything stoically experienced?
- Since I generally thought for the first day that everything that happened was a stupid joke of our "gifted TV people", then this question is incorrect for me ... How would I react to this situation if I understood that we were really captured? Then I don't know, now I would try to create panic among the flock of hostages. Only panic will cause a flock of sheep to trample wolves and dogs.Yes, at the same time one of the hostages will certainly die, but the rest will have much more chances to survive ... In modern times, they take hostages not to let them go, but only to kill them.
- What are people talking about in such circumstances? Or try not to talk at all?
- Most people are silent. They remember all the close people, cry, remember that they have a lot of unfulfilled obligations ... It is not always possible to speak. When it is possible, not the fact that it wants. In these moments there is a powerful work with his conscience, memory, beliefs ... It is very difficult to accept yourself for who you are. It is for this reason that people are making shifts: they do not find themselves in conformity with the circumstances, and their common sense program flies, and some other, not always based on logic, takes its place. When they speak, they speak mainly only with the aim of throwing out their experiences or appeasing their comrades in misfortune.
- Have you personally contacted the terrorists?
- Yes.
- Tried to enter into any negotiations with them?
- What's the point? What could I offer them? Negotiations are possible onlywhen there is something to offer or you can at least pretend that you can offer ... Since we knew the demands of the terrorists and I was aware of their impracticability, then it would be nonsense to enter into negotiations. Imagine that you enter into negotiations with an egg from the refrigerator before you break it and put it into scrambled eggs. Ask the egg if it has entered into negotiations.
- Did the terrorists make any breaks for the hostages?
- The terrorists did not go too far - that's all the relaxation ... What a relief? Exit to smoke? No one was allowed to smoke! Go to the toilet? So this is not a relaxation, but a vital need, like water with food. Yes, we were allowed to drink and eat a little ... But this is not an indulgence - it is just a way to keep the herd under control.
- Even for children there was no loosening?
- As far as I remember, almost all the children were released ... The rest of the children (up to 12 years old) were not in my field of vision, and those over 12 years old did not recognize them as children, respectively, there was no loosening.
- As far as you were aware of the intentions of the authorities? Any information about the upcoming assault reached?
- Unfortunately, we were informed through the TV, which we were specially included.Also, the terrorists were constantly shouting out some news from the scene ... After those events, I really do not like the media - the mass disinformation and the introduction of harmful information. I do not know why the abbreviation is accepted for the press as media This is such a shit that I disdain to watch after those events. When I was discharged from the hospital, I almost broke the camera of the Ukrainian film crew, when out of the ear I heard their questions to someone from the discharged Ukrainians. I barely kept my brother.
- Help from the outside reached you?
- What kind of help? What do various politicians ascribe to themselves trying to make political capital for themselves? From the real help was the arrival of Roshal, the emotional uplift was ... Here is a real relief from the terrorists: what was launched into the hall of Roshal. And then we saw on TV that he came out alive from the building. I do not remember Kobzon, most likely, he was simply not allowed into the hall. But the fact that he brought the children, is already good. The rest of the help? As far as I understand, we ate stocks of a buffet, and not some abstract programs of politicians and negotiators.
- How do you assess the actions of the authorities?
- There was, of course, misunderstanding.But then it came to the realization that this is the only correct way ... Negotiations cannot be conducted with terrorists - they must be destroyed, regardless of who they are - a gang with masks on their faces or a group of world-famous politicians. You should always act according to your conscience, but extremely tough.
- Do you think that the assault with the use of gas was justified?
- Certainly justified, otherwise we would not communicate with you. The fact that I woke up in the hospital is already a miracle, as it had to be torn into thousands of pieces by an inevitable explosion. In the hall there were about 20 people capable of activating the detonators, the explosives were hung and attached in such a way that there was a ZERO chance to survive.
- After the release, did any of the authorities communicate with you?
- Fuck me to communicate with them? It was enough for my mother to talk with Valentina Matvienko, who said that none of the hostages had been injured during the assault, and five minutes after her departure, they started posting lists of survivors. And it was announced that more than 100 people died. Mom could not find me in any list of living. Imagine? I doubt ... I can not imagine. I do not like all politicians - they are dirty people, without conscience.There are no others among them. Just some climb into the mud for the sake of personal ambitions, while others are just so smeared with the shit of their affairs that it is completely impossible to consider their good intentions. I repeat, the one who made the decision on the assault made the absolutely correct decision. Otherwise the victims would be all hostages.
- In your opinion, has the situation in the country become more secure in terms of terrorist threats?
- Considering how many journalists and hacks are spinning around this topic, some forces are still interested in shaking the political and terrorist situation in Russia. As long as there are bastards smeared with the goals of the division of society, there will be terrorists.
- Do you think it is right that the topic of "Nord-Ost" in the media is silent and try not to remember?
- No one is silent about this topic. Twice a year, I try to take different people "interview the victim" ... Most do not like it, which I consider the actions of the authorities justified. Most need yellowness and political compromising on the current Russian authorities. Therefore, they seek out the unfortunate relatives of the victims, swing them to loud statements that the authorities have killed their children, wives, brothers, and then in every possible way try to show the prohibition of their published materials.Although, as far as I understand, no one bothers them and does not prohibit ... Not later than yesterday I specifically looked at what is displayed on the Internet for the search for "Nord-Ost" ... A lot of all @ # $! $ (Nonsense) with signatures "forbidden in Russian video "," banned in Russia interview "... If this were true, then believe me, we could not find it either in" Yandex "or in" Google. " All search engines work very closely with the authorities of the countries in which they work, and try to remove all taboo topics.
- There is an opinion that Nord-Ost is a shame for Russia. In the sense that a proper investigation into the circumstances of the attack was not conducted. Do you agree with this?
- "Nord-Ost" is a shame that allowed the collapse of our country. Allowed what began after the collapse of centralized power in Russia. Those who did not stop Chechen separatism at the very root in 1991-1992. Who, having information about what is happening in Chechnya, simply earned money from it.
Related news
I remember, as I understood, that we would not all come out alive: the memories of the Nord-Ost hostage image, picture, imagery