Julienne muffins: simple and affordable cooking recipes
Russian dish with the French name "Julien" is one of the main places on the holiday table. Juicy filling, cheese crust on top and an interesting presentation make it an ornament to any event. In addition to the traditional option in the cocottes, no less tasty will be the julienne buns with chicken and mushrooms, cooked in cream or sour cream.
Who invented the julienne? The origin of the dish
The word "julienne" has French roots. It is believed that it occurred from the name of the month of July. Interestingly, it has nothing to do with the dish that is offered to try today. In French cuisine, julienne is one of the ways to cut young, mostly summer vegetables with very thin straws. But why such a word began to call the Russian dish mushrooms in sour cream, still remains a mystery.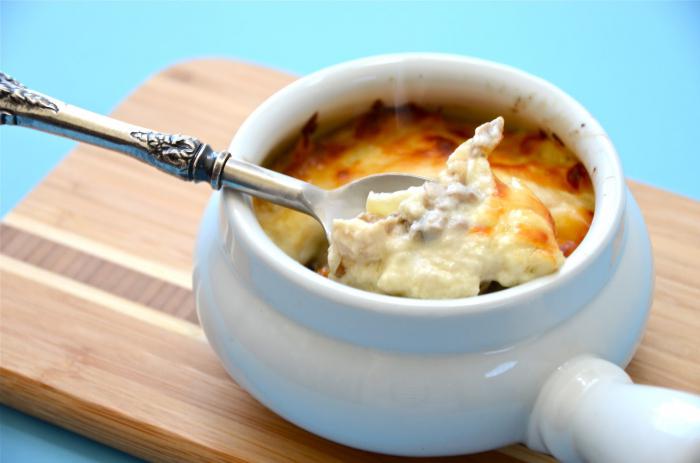 In his work "Culinary Dictionary" the famous Soviet and Russian leader V. V.Pokhlebkin confirmed the true origin of the julienne as a way of cutting vegetables. And he emphasized that only bad restaurants call so mushrooms cooked in sour cream. It is worth noting that in many textbooks on culinary mastery one can trace the belonging of a dish to Russian cuisine. In this case, the French name is due to a very thin cutting of mushrooms.
Difficult choice: sour cream, cream or bechamel?
In modern Russian cuisine, julienne is a dish made from mushrooms in sour cream. But the classic recipe was constantly subjected to experiments and today it also adds various ingredients: chicken, seafood, vegetables. Other options for cooking Julienne are no less interesting.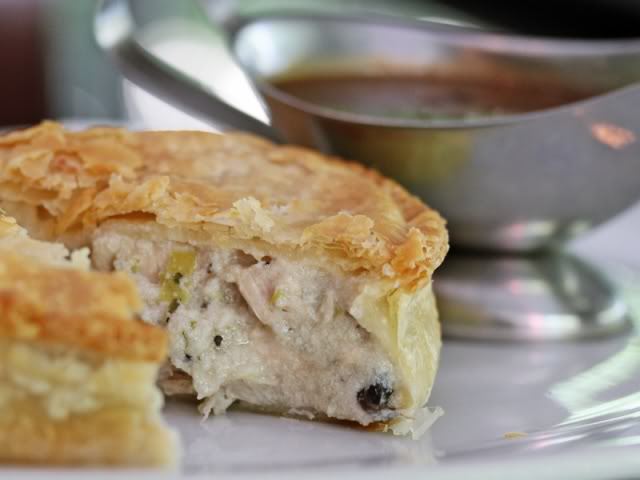 As a dressing for mushrooms, it was originally proposed to use sour cream. But the dish will turn out no less tasty if you add fat cream or bechamel sauce based on milk, butter and flour as a thickener. This cooking option Julienne - for real gourmets. Adding a French sauce to an old Russian dish makes it truly European.
Recipe for a traditional julienne with mushrooms in sour cream
In the classic version, julienne is prepared in metal cocottes with a volume of 200 ml. You can also use small clay or ceramic forms of similar size.
To prepare a traditional julienne with mushrooms, you need to prepare the following ingredients:
Those who do not like the taste of sour cream, you can offer to replace it with cream fat content of at least 33 percent.
How to cook julienne:
Wash mushrooms, cut into thin plates.
Chop the onion finely. Fry in vegetable oil until transparent.
Add mushrooms to onions. Fry over medium heat until the liquid evaporates for 5-10 minutes.

When the mushrooms begin to turn red, they should be filled with sour cream (cream), salt and pepper to taste.
Leave the pan on fire for another 10 minutes.
Prepare cocoon or other dishes. Arrange the mushrooms in portions, sprinkle with coarsely grated cheese on top.
Send the dishes to the oven, heated to 180 degrees, for 15 minutes.
When the cheese has melted and a brown crust is formed, we can assume that the julienne is ready.
Mushroom julienne buns in the oven
If the house does not have special dishes, it is not necessary to abandon the preparation of a dish called julienne. In buns it will turn out not less tasty."Edible plates" with a fragrant and juicy filling will surely please guests at a festive event.
For the preparation of julienne with mushrooms, you will need ingredients similar to the previous recipe: mushrooms, onions, sour cream (cream), cheese, vegetable oil for frying, salt, pepper. But as the dishes will be used in advance purchased in the store or baked round yeast buns in the amount of 6 pieces.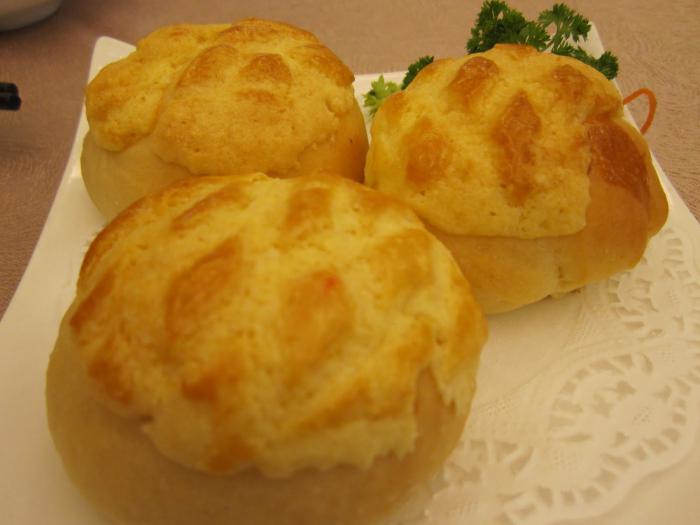 So, to cook mushroom julienne in a bun, the recipe of which differs from the classic version only in the way of roasting, it is necessary:
Prepare the stuffing for the buns, first fry the onions and mushrooms. Salt, pepper, fill with sour cream and stew all 10 minutes.
Prepare the buns. To do this, cut off the top of them, carefully remove the crumbs.
Put the mushroom stuffing inside each bun. Top can be sprinkled with cheese and sent to the oven.
Bake at 180 degrees for 15 minutes.
Julienne with mushrooms in a bun ready. Serve hot.
How to cook chicken julienne in buns
Mushroom julienne will be even tastier if you add chicken to it. For this, thigh and shin are ideal, as well as sirloin, but then the filling may turn out to be rather dry. Meat must first be boiled.Then it must be divided into fibers or finely cut into strips. When preparing the filling, chicken meat is added after the liquid has evaporated from the mushrooms. You need to fry it for 5 minutes along with the rest of the ingredients, and then you can pour it with sour cream or cream.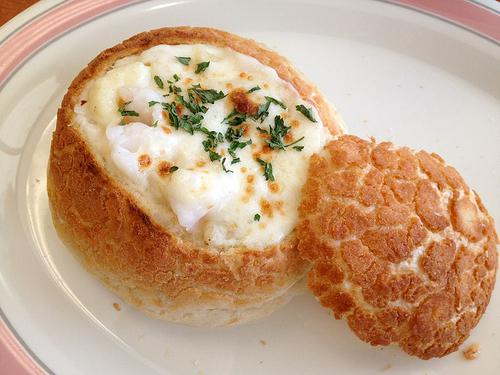 Julienne with chicken in a bun turns out to be more caloric than the mushroom option. But the dish only benefits from this.
Yeast Biscuits for Julien
No matter how tasty and fresh were the buns from the store, but still it is much more pleasant to eat julienne, fully cooked with your own hands: from dough to filling.
To prepare the dough, you need the following ingredients:
milk - 250 ml;
dry yeast - 2 teaspoons;
sugar - 1 tablespoon;
flour - 450-500 g;
vegetable oil - 50 ml;
salt - 1 tsp.
The sequence of actions is as follows:
Prepare a brew. To do this, dissolve yeast, sugar and 50 g of flour in warm milk. Put in heat for 15 minutes to form a yeast cap.
In the finished brew add salt, vegetable oil and flour. Knead the soft, not sticky to the hands of the dough.
Cover the dough bowl with a towel and put it in a warm place for about 2 hours.
When the dough fits, you can make buns. To do this, tear off small pieces from it and form round balls with a diameter of 6-7 cm.
Formed products set aside to approach for 20 minutes.
Bake buns 30 minutes at 180 degrees.
Now the julienne buns can be cooked by yourself. And in order to reduce the time for its preparation, while the dough fits, you can do the stuffing. And then immediately after baking the buns, send the main course to the oven.
Related news
Julienne muffins: simple and affordable cooking recipes image, picture, imagery