Menu for the New Year. What to cook for the New Year?
for our country it is a special holiday. The time when friends meet. Noisy and funny, he gathers large families and closest friends around his desk. Champagne and tangerines, Christmas tree and Bengal lights, Olivier and herring under a fur coat - we carefully preserve long-standing traditions, and every year we look forward to this pleasant vanity. Most of the concern for organizing and conducting the holiday, of course, falls on the women's shoulders. This includes cleaning the house, preparing the menu for the New Year, buying groceries and gifts. Therefore, it very often happens that having finally run up and tired, by evening the forces for the holiday itself simply do not exist. Let's talk about how to set a good table for a large company, discuss an exemplary menu for the New Year, which will cost you with minimal time and effort.
So, you invited guests to the house, let's say that it will be a company of ten people. The first thing to do is create a menu. At the same time be sure to write everything in a notebook, because then it will be much easier to make a list of products and not forget anything.
Cooking main course
Meat dish for the New Year is a must and is an integral part of the festive table. Let's consider three options: beef, pork and poultry, sometimes we admit a rabbit, but it is not so often to meet him in the markets. Of course, they can be served in different ways: separately, in the composition of ravioli, dumplings, cabbage rolls and other things. But, perhaps, many will agree that a beautifully baked and decorated pork ham, beef tenderloin, goose or turkey will decorate the festive menu of the New Year much better than the same cabbage rolls. The main thing to remember is the integrity of the product. If it is a ham, pickle it the way you like it and cook it whole. If it is beef, then roll the flesh into a beautiful roll, drag gently with twine (not synthetic!), You can pre-fill it with a mixture of various spicy herbs (dill, rosemary, thyme, parsley, coriander, etc.), and finally pour the fragrant sauce, Serve with vegetables and herbs.
Goose or chicken?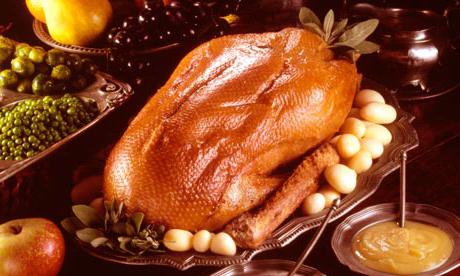 The main meat dish for the New Year can be from poultry. Choose from chicken, goose or turkey. Each option is good in its own way. Chicken, of course, budget, but at the same time quite simple.Since there are a lot of guests, and her carcasses on average 1.5-2 kg in weight need two or three pieces.
Goose will cost more, but it also weighs much more (4-5 kg). At the same time, both plus and minus is that it is quite fatty meat. When baking in the oven, it will significantly lose weight, and you also need to think about your stomachs and guests, the meat is a bit heavy. A similar situation with the duck. Therefore, if you want to move away from banality, the American version with turkey will be ideal. The bird is quite large, the carcass is large (up to 7-10 kg), and there is a lot of meat on it. Its undoubted advantage is low calorie, environmental friendliness and lightness. Two medium-sized turkeys (3-4 kg) or one large one will be enough. Besides, the whole fried bird in the oven, you see, looks very festive.
With sauce twice as tasty
Many people underestimate the value of the sauce as part of the holiday table. And it is absolutely in vain, because if you choose it correctly, it will only emphasize and add zest to your main dish. Therefore, be sure to include it in the menu for the New Year. Recipes can be very different. For example, for turkey and goose, choose light sweet and sour sauces based on fruits and berries (lingonberries, cranberries, plums, cherries, black currants and even raspberries),they are ideal for tender turkey meat and well dilute the rich taste of the goose, chicken add zest.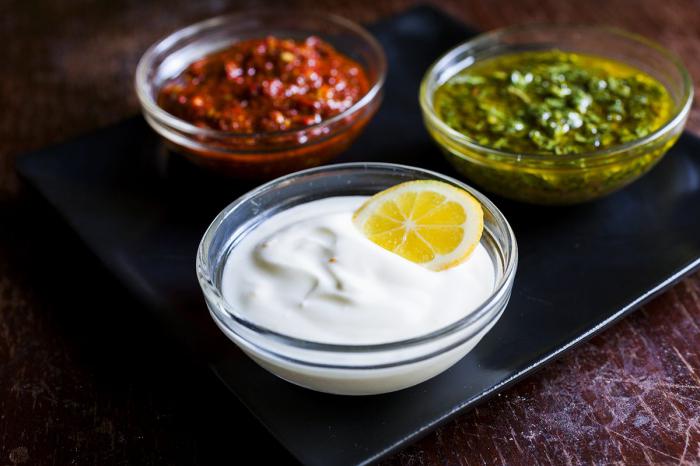 All of the above is suitable for beef and pork, but in addition, you can cook, for example, various variations of the Dutch sauce with herbs, red and white on meat broth and wine, sour cream, mushroom. Before serving the table, pour them into special beautiful sauce bowls and arrange them evenly on the table.
Choosing a side dish
The menu for the New Year must include a side dish. There can be three options: potatoes, other vegetables or rice (as pasta is too common). If you choose the first option, the cooking method is two. Serving it to pork or beef, boil it, and then lightly fry small round potatoes. Before serving, you can sprinkle with oil and sprinkle with herbs or puree. By the goose, turkey or chicken, bake the potatoes with them. It is saturated with juices and melted fat, which will give him an indescribable taste.
Vegetable garnish can be from fresh vegetables, mashed or baked in the oven or on the grill. The latter method will take more time.You can use any kind of vegetables as a side dish, but keep in mind that not everyone likes the same broccoli or cauliflower. But mashed potatoes will decorate the children's menu for the New Year.
A side dish of rice is also quite versatile and loved by everyone, the main thing is to choose long-grain varieties. It is important to boil it properly, so as not to get porridge. The main meat dish can be easily brought under such a side dish by adding oriental spices and spices.
Reserve pocket does not pull!
It is possible that the guests will be with a good appetite or someone else unexpectedly will come, so you should always have a ready-made option for what to put on the table. Let's decide what to cook for the New Year as a "spare" main dish. Here our traditional and native ravioli are simply irreplaceable, which in 10 minutes will already be on the table, hot and fragrant. The second option will take a little more time to prepare, on average 30-40 minutes. It can be prepared in advance of cabbage rolls and manti, it is not required to defrost them, it is enough to reach and cook. And remember, the stock, as they say, does not pull the pocket, the New Year week is long.
Salads for the New Year
For a company of ten people, 4 types of salads will be enough, each type in two standard-size salad bowls. Every year every hostess has a headache about what to choose. The old ones seem to have become boring, but without them the table seems empty and not at all New Year's. I want something new, but suddenly not everyone will like it. Therefore, it is best to cook two traditional salad, and the other two - new. One must do with meat (but not with the fact that it participates in the main dish), the other with fish, the third vegetable, and the fourth at your discretion, let it be completely new and experimental, or, conversely, your favorite. Thus, there is a chance to please all guests.
Fish salads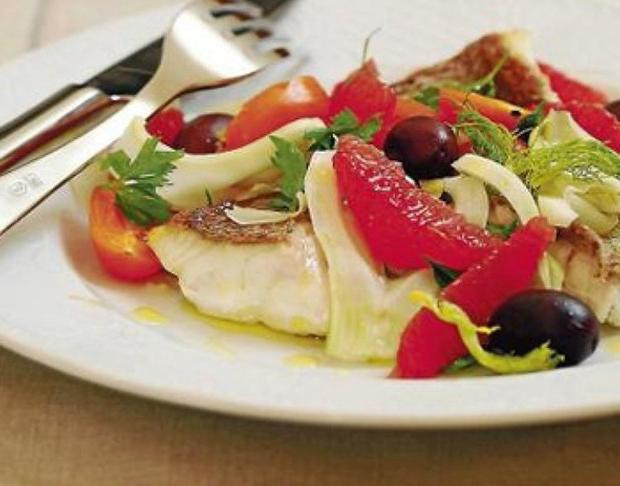 As practice shows, salads for the New Year can be any, but herring under a fur coat is out of competition. Leaving the contents unchanged, change the shape. For example, in the form of fish, which is easy to do in a silicone baking dish, if there is one, in the form of a roll, portion columns made using a culinary ring, where each layer will stand out beautifully, in the form of a wreath, the middle of which can be decorated with a candle and fir sprigs.Do not limit your imagination, and then the old recipe will play a new way. The second popular fish salad is Mimosa. It can be successfully played with ingredients, replacing canned salted fish, for example, pink salmon, and quail eggs, or use different types of cheese.
In addition, options with cod liver, tuna in combination with fresh vegetables and eggs, red fish and caviar, spicy smoked mackerel and green apple are very interesting. You can also submit them in a large salad bowl, in portions or in tartlets.
Meat and vegetable salads
To the category of meat salads can be safely attributed "Olivier". Just replace the sausage with delicious boiled beef, and pickles fresh. For members of the stronger sex, prepare hearty "Male Dreams" (meat, cheese and pickled onions, nothing more should be in them). Salads with chicken or turkey combined with walnuts or pineapple, prunes and champignons are very tasty and light.
Vegetable salads should be, but let them be light. If dressing is not mayonnaise, but olive oil with balsamic vinegar.Now a very popular option is when shredded vegetables (cabbage, cucumbers, tomatoes, Korean carrots, onions, corn, beans), some fruits and olives with olives, and in the center of a bowl with dressing are laid out on a large platter of slides. Each guest can "collect" their own salad from their favorite ingredients. As a variation, try to put not one gas station, but several types.
Of course, you can create an unusual menu for the New Year, which will strike everyone (not always from the best side), but still, if you are waiting for a lot of guests, stick to the classic versions of salads.
That which is always snapped up
Always appropriate and hot cakes are snack sandwiches and canapes. Of course, snacks are very simple, but at the same time tasty. And most importantly, there is nothing complicated in their preparation; you can use absolutely everything that is on hand, vegetables, fruits, meat and sausages, cheese, olives and in general all that remains of the main dish and salads. To get started, buy a big, fresh and crispy baguette, you can even from coarse flour, with various additives, cut it into small slices, and then fill it with contents.Use, for example, soft curd cheese (not salty) and lightly salted red fish. The same variant of the filling will be ideal for savory profiteroles (but they should be baked the night before). In general, a lot of options, feel free to include them in the menu for the New Year. Economical and tasty table filling guaranteed.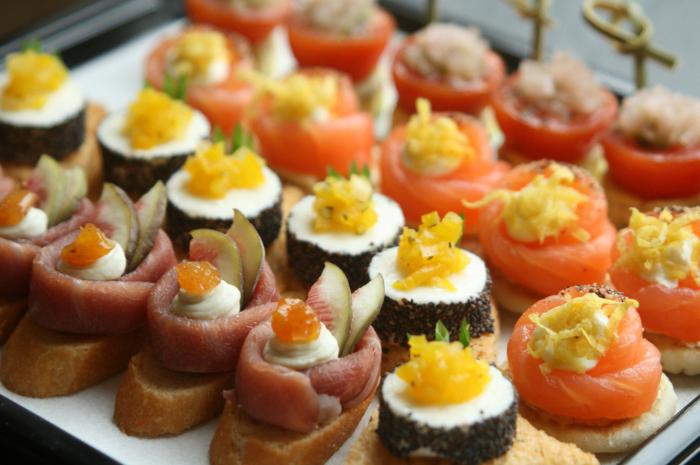 There should be cuts on the table: cheese, sausage, fish. Dilute them with a small amount of canapés. Do not make fruit slices. First of all, they will wind up, and secondly, whole fruits in vases are much more beautiful. You can put some citrus fruits in vases with a high stem: grapefruits, tangerines, oranges, limes and lemons for beauty. It looks very original and bright. Apples, tangerines, bananas, oranges, choose a small size, so it will be more convenient for you and guests.
And what about dessert?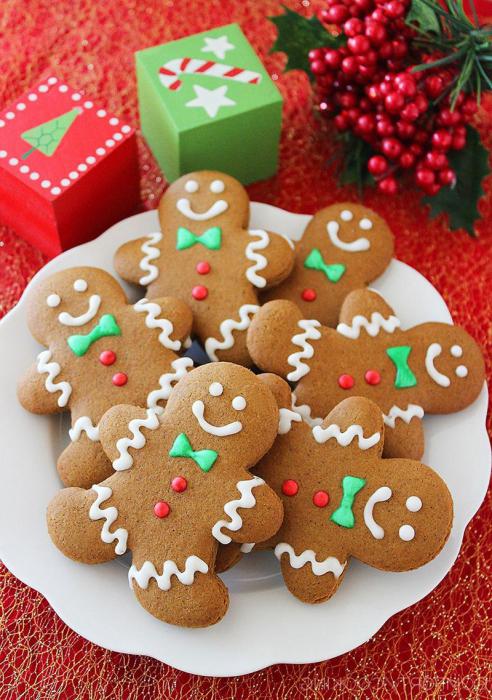 It is erroneous to assume that on the New Year the matter is, as a rule, not a dessert, because besides adults there are still children. There is nothing more simple than buying cake, sweets and a variety of sweets at the store. But if you want to do everything yourself, then do not leave it on the last day. There are many excellent recipes, simple and tasty, which time will only benefit.Want to bake a cake? Excellent! Bake classic "Napoleon" on December 30 and in a day it will be even tastier. Or, for example, the "Anthill" and the more elegant festive "Croquembush" (a Christmas delicacy popular in its homeland in France). It can definitely be prepared in advance, decorated with caramel threads, candied nuts and flowers. Another popular pastry is gingerbread and gingerbread houses, which can be cooked a few days before the holiday and decorate with them, for example, a Christmas tree.
We distribute time
Now let's talk about how to allocate time. To begin with, what to prepare for the New Year in advance, at least 2-3 days, or maybe a week:
"Spare" dishes, make them in advance and with peace of mind put everything in the freezer;
buy all the main products and only perishable can be left for later;
take care of drinks, making a list in advance of both alcoholic and non-alcoholic, taking into account the preferences of future guests.
On the eve of December 31:
boil and peel eggs and all vegetables for salads
defrost meat, duck, goose or turkey, or buy everything fresh;
You can make salads that require soaking.
On the last day of the year, the first thing to do is sleep, believe me, you will have time to do everything, it will be much worse if the holiday passes with a feeling of fatigue. But then get down to business. Marinate meat for the main course. Wash all the fruits you put on the table. Spread candy and other sweets on the vases. And about lunchtime, take up salads. Those who can lose the presentation until the evening, leave for later. An average turkey cooks 3-3.5 hours, therefore, it should be put in the oven about 4 hours before the expected feast time. Thus, before the arrival of the guests will remain at least a couple of free watch for yourself favorite.
Set the table setting, preparation of fruits and other small things to family members, it is better to do this in the middle of the day. But all the necessary utensils, cutlery, still need to prepare in advance, so that at the last moment did not have to rush to search for something. And do not forget about the festive decor of the house, it works wonders!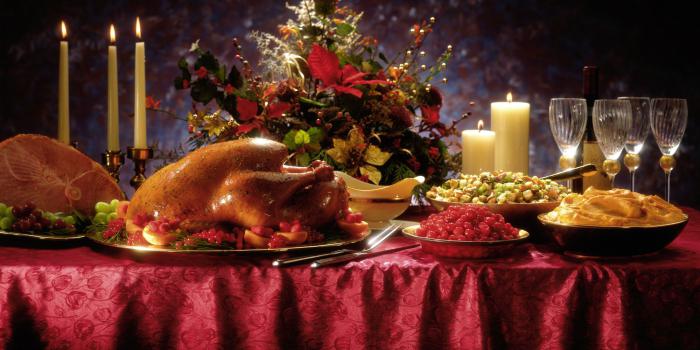 Even the most original menu for the New Year can be realized on time and at the same time remain in a good mood and full of strength. The main thing is to know what you want.Then everything is quite small - a clear plan and a competent menu will help you with this.
Related news
Menu for the New Year. What to cook for the New Year image, picture, imagery