National dishes of Russia. Russian cuisine menu
Traditional Russian cuisine has evolved over the centuries. Modern dishes have not only Slavic roots, since they have been actively influenced by the traditions of more than 150 nationalities living in our country. In this article we will tell about the most popular national dishes of Russia and share with you their recipes.
Homemade Pork Dumplings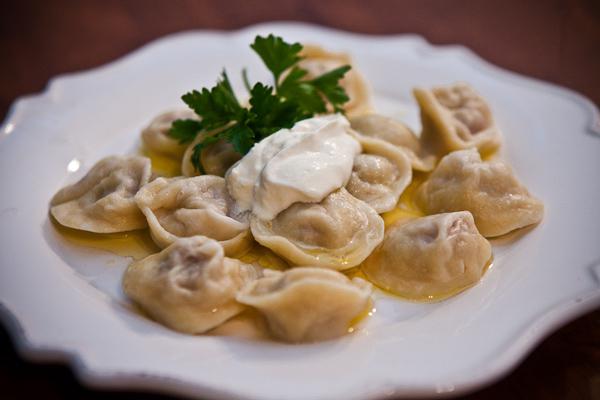 Russian cuisine is famous for the fact that most of its dishes are quite rich, high-calorie. This is not surprising, since such features are natural for a country with a cold climate. Among the most beloved, we can highlight homemade dumplings, which are traditionally prepared by the whole family for all the big holidays. How to cook dumplings with pork? It's pretty simple:
600 grams of lean meat and two peeled onions skip through a meat grinder. Mix the minced meat with pepper, salt and spices to taste.
Knead fresh dough from 500 grams of flour, one egg, 150 ml of water and a pinch of salt.Cover it with a towel and let stand for about half an hour.
When the right time passes, roll the dough into a layer 3-5 millimeters thick. Using the form, cut out circles from it and put a little stuffing in the center of each.
Pinch the blanks around the edges and make dumplings out of them.
Pour water into a large saucepan, bring it to a boil, put salt, pepper and bay leaves and other spices to taste in it. Dumpling dumplings in boiling water and cook until ready, do not forget to mix them periodically.
Dumplings are almost the treat No. 1 in the list "The most famous national dishes of Russia". Cook them with different types of meat and serve with sour cream, mayonnaise, ketchup, vinegar or mustard.
Tongue Salad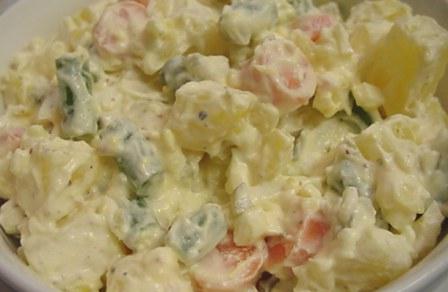 As we have already mentioned, almost all the dishes on the menu of Russian cuisine are quite satisfying. This characteristic also applies to salads and holiday snacks. To prepare a salad with the tongue, you will need:
400 grams of beef tongue, rinse with a brush, pour cold water, salt and bring to a boil. Add your favorite spices - peppercorns, garlic, bay leaf - and cook on medium heat for about two hours.
Put the prepared tongue in cold water, remove the skin from it and cut it into thin strips.
Peel one onion, chop into half rings, and then pickle in a mixture of boiling water and one teaspoon of vinegar.
Boil one carrot and three chicken eggs until cooked, then peel them and cut into strips. Similarly, grind three or four pickled cucumbers.
Combine all the ingredients in a salad bowl and season them with a mixture of mayonnaise and mustard. Season with salt and pepper.
Solyanka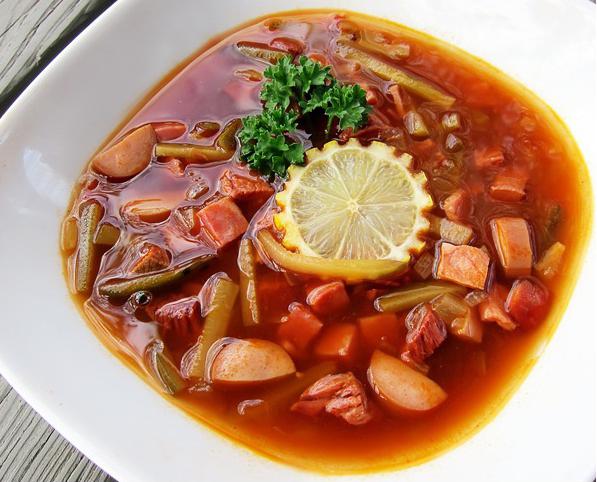 Russian national cuisine is rich in first courses, including many borscht, soups, cabbage soup, okroshka and so on. However, it is the solyanka that can be distinguished from everyone and you can safely call it a favorite national dish. You can prepare it according to the following recipe:
In a large saucepan, put 300 grams of smoked ribs and 600 grams of beef (or pork) on the bones. Also send a peeled onion, a couple of garlic cloves, a celery stalk and a small carrot.
Fill the meat with water, bring it to a boil and cook on low heat for about two hours, periodically removing the foam from the surface.
Ten or fifteen minutes before the readiness, place a bay leaf, salt and pepper in the water.
Remove the meat from the pan and strain the broth through a sieve.Separate the pulp from the bones and cut it into strips.
Similarly, grind 200 grams of ham and 200 grams of smoked sausage.
Three pickled cucumbers cut into strips, put them in a preheated pan and cook for five minutes. After that, transfer cucumbers to the broth.
Peel and chop the onion into quarters of rings, fry it in a pan with the addition of ketchup.
Put all prepared products and olives into rings in a pan. Cook the hodgepodge for another ten minutes.
Add capers and salt to the soup, and then cover the container with a lid, turn off the heat and let the dish stand for fifteen minutes.
Serve the ready dish with sour cream, garnished with a slice of lemon and chopped greens.

Okroshka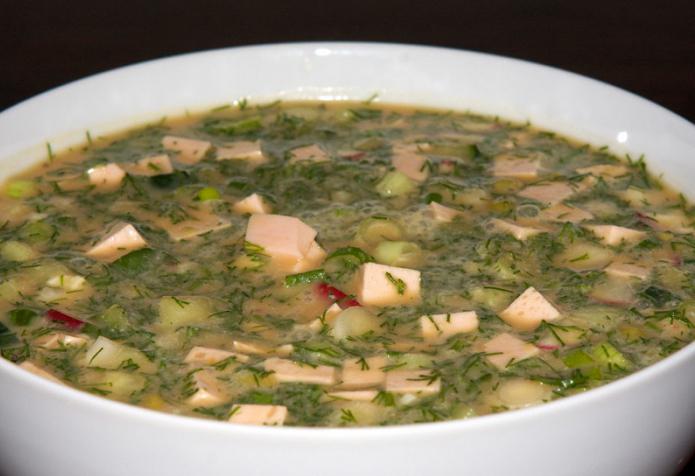 If we talk about summer popular Russian dishes, okroshka will take the first place in the rating. Prepare it in many ways, but we suggest you read the most popular recipe:
Boil four potatoes and four chicken eggs until ready (in uniform). Peel the products and cut them into strips.
Three fresh cucumbers (without skin) and a bunch of fresh radish cut into thin slices.
Free one onion from the husk and cut into quarters into rings.
Green onions and fresh herbs chop arbitrarily.
300 grams of chicken ham (can be replaced with boiled sausage or chicken breast) cut into thin strips.
Stir the products in a large saucepan, season them with salt and cover with kvass.
Serve chilled with sour cream, grated horseradish or mustard.
Patties with onions and egg
Russian national cuisine is known for its various baked goods with various fillings. We decided to stay on the recipe for pies with onions and eggs, although you can make pastries with meat, cabbage, potatoes or rice. Recipe:
Preheat a glass of warm milk to 30-40 degrees and dissolve a bag of dry yeast in it.
Add one egg, one and a half tablespoons of sugar, half a teaspoon of salt to the bowl and mix well.
Sift four cups of flour through a sieve, add a teaspoon of baking powder and combine with the rest of the products.
Knead the dough tight, then cover it with a towel and place in a warm place for a while. When it rises, crush it with your hands and leave it alone for another half hour.
For the filling, boil five chicken eggs, peel off the shells and cut into strips. Chop a bunch of green onions, mash with a crush, sprinkle with salt and season with vegetable oil. Stir products.
Make small patties from dough and toppings, put them on a baking sheet covered with parchment, brush with whipped yolk and send to a preheated oven.
When the baking is ready, put it on a dish and serve it with tea or chicken broth.
Cheesecakes
Traditional Russian dishes include curd dishes. How to cook delicious cheesecakes, read below:
Mix 500 grams of cottage cheese with five tablespoons of sugar, five tablespoons of sifted flour, one egg and salt.
Heat the pan and fry the pancakes on both sides, which should be formed from cottage cheese dough.
When the cheesecakes are covered with a golden crust, transfer them to a baking sheet covered with parchment and cook in a preheated oven for ten minutes.
Serve the ready dish to the table with sour cream.
Buckwheat porridge with meat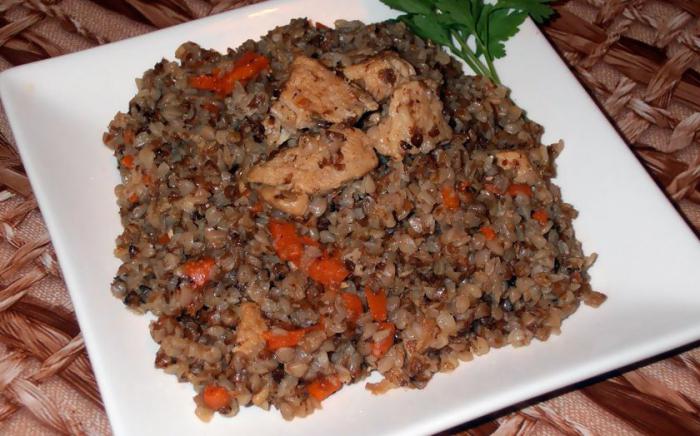 Discussing national dishes of Russia, it is impossible not to mention porridges. You can prepare a delicious dish of buckwheat and meat in the following way:
200 grams of buckwheat, sort and wash under running water.
400 grams of pork cut into small pieces and fry in vegetable oil. At the end, add chopped onion, grated carrots on a fine grater, as well as ketchup or tomato paste.
If the pan is large enough, continue cooking in it further. If not, transfer the meat to a large pot with a thick bottom.
Pour the buckwheat to the meat, fill it with hot water and cook on low heat for about half an hour.
Related news
National dishes of Russia. Russian cuisine menu image, picture, imagery