"Optimism is a strategy. The choice is yours". 15 mandatory quotations of the genius scientist Noam Chomsky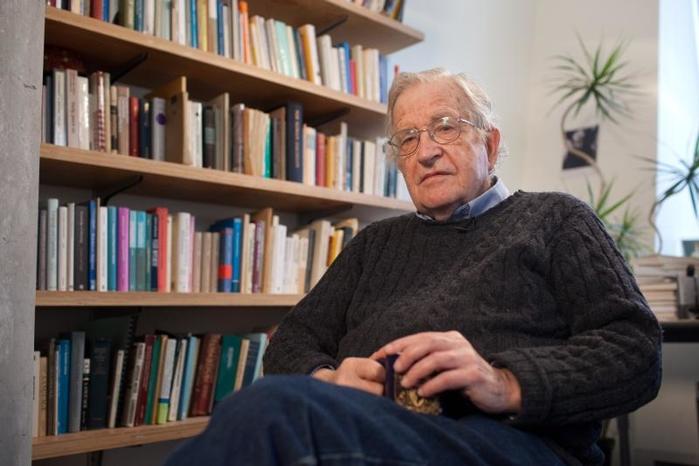 Avram Noam Chomsky (also Chomsky or Chomsky, Eng. Avram Noam Chomsky) is an American linguist, political journalist, philosopher and theorist. Born December 7, 1928 in Philadelphia, Pennsylvania.
Chomsky is a professor of linguistics at the Massachusetts Institute of Technology, the author of the classification of formal languages, called the Chomsky hierarchy. His works on generative grammars contributed significantly to the decline of behaviorism and contributed to the development of cognitive sciences. In addition to linguistic work, Chomsky is widely known for his radical left-wing political views, as well as his criticism of US government foreign policy. Chomsky himself calls himself a libertarian socialist and a supporter of anarcho-syndicalism.
Others call Noam Chomsky "Einstein in linguistics." He is one of the most cited scientists in the world. Americans nicknamed him "Our Socrates." The genius of his era, the chief intellectual of our time - Noam Chomsky, in his almost 90 years, still teaches the science of language at the Massachusetts Institute of Technology, gives interviews and writes books. Chomsky is not just a great linguist, but a style of thinking.
We have selected for you 15 of his most vivid quotes, mandatory for educated people.
Optimism is a strategy. If you do not believe that a better future is possible, you will never take a step that will lead to a better future. If you think that there is no hope, it will not be. The choice is yours.
If we do not believe in the freedom of expression of people whom we despise, it means that we do not believe in freedom of expression.
The literature contains more information about human nature than any scientific theory. But you have to be careful. If I want, for example, to learn something about the Chinese revolution, then it must be understood that once read books have influenced my attitude to the country - about a rickshaw boy, for example. We have to accept the fact that there are other, no less important sources of information about the world than literature.
If today you are giving the same lectures as five years ago, then either your discipline is dead, or you.
I do not see any need to formulate difficult, if it is possible to formulate simply. The complication of the simple is the favorite game of intellectuals: the more incomprehensible, the better. You do not fully know what you are talking about, but you have been provided with power, prestige and influence.
Reading is not a simple page turning. These are meditations on what has been written, marginal notes, mental comparisons with other books, the search for new ideas or images. It makes no sense to read, if you just "swallow" the book, and after ten minutes you forget what it is about. Reading a book is an exercise for your mind, gymnastics for thought, developing imagination.
Access to the Internet is a great blessing. However, this information is fleeting and ghostly. If you do not know exactly what you are looking for, if you do not save what you found, do not look for the right context - consider that you have wasted time. It makes no sense to have access to immense data if you are not able to understand them. And for this you need to think, reason, study. I believe that in today's world, the capacity for these actions is gradually fading.It is impossible to measure the degree of degradation, but I bet: it is degradation that is happening now.
Our culture of meeting all needs and desires as soon as possible does not contribute much to the development of perseverance and firmness.
The meaning of life is determined by how you use it, what you transform it into. There is simply no other meaning for life — human, dog, bacterial. You decide for yourself what the meaning of your life is - and therefore, partly dominate it. If you decide: I will live to accumulate more good - therefore, this is the meaning of your life. It will be possible only to sincerely regret you, but it just so happened, and you can't help it. If you decide: I will live in the name of friendship, love, mutual assistance, in the name of people who want to bring more joy and happiness to themselves and those around them - so this is the meaning of your life. However, there is no external decision-making power for you.
The need to reflect on the meaning of life is probably born out of the unwillingness or inability to take one's life in one's own hands. If you consider yourself the creation of some external forces, doomed now and then to get slaps from the market, government,parents of tyrants - from anyone and anything - then start to look for something external, extraneous, able to point you to the true meaning of your life. And if you have already developed (I see, of course, from my bell tower) healthy respect for both yourself and others, then you yourself will begin to sculpt the meaning of your own life.
A hypocrite is one who applies standards to others who refuse to apply to themselves.
We are losing childhood. Teachers chained in the framework of instructions. Children chained into the framework of tests and exams. If all training comes down to exam preparation and passing, no one will learn anything. Everything you said on the exam is forgotten immediately after it is completed.
Psychotherapists know that guilt is a hook, which makes it easy to hook even the strongest person. Owning a hook, like a raider, directs the masses of logs into the desired flow. If the media makes a person believe in his own guilt about all the misfortunes around him, then it is easier to distract him from the struggle for economic and political rights. Self-deprecation leads to apathy and inaction.
The Internet saves money, the Internet saves time. But he kills the relationship.I remember that I once lived in a small town, and there the post office was a place of communication. Nothing was delivered home, so in the morning people came, picked up correspondence, talked.
The human race may be about 100 thousand years old, and it is currently experiencing a unique moment in its history. This genus is now in a position in which it very soon, over the next generations, will have to decide whether this experiment of so-called intelligent life will continue or we decide to destroy it.
Related news
Optimism is a strategy. The choice is yours. 15 mandatory quotations of the genius scientist Noam Chomsky image, picture