Step-by-step recipe for buns with jam on ryazhenka
There are a lot of recipes on the Internet, but what to choose in order not to mess with the dough for a long time, but in the end get the most pleasant option? Many eminent pastry chefs recommend cooking dough on dairy products with added oil - then the crumbly, but delicate structure of the baked product will greatly delight you.
Dough recipe

Yeast dough for buns with jam is best cooked on ryazhenka - it gives the finished product a unique delicious and very homemade flavor of baked milk.
We heat 100 grams of water to + 35 ... + 37 ° С, add a pinch of sugar and 12 grams of dry yeast to it, stir until complete dissolution and leave the mass in a warm place for 10 minutes. A cap of foam will grow over the brew - this is a signal that the activation of the yeast has begun and that yeast dough can be kneaded. Buns with jam will taste better if you add eggs and butter to it.To do this, you need to mix two eggs and one hundred grams of butter melted in a water bath with four tablespoons of granulated sugar to a uniform consistency and gently mix the mixture into the dough.
Next, add 0.5 tsp of salt, ryazhenka 0.5 liters and dough flavor to your taste - it can be vanilla, cinnamon or grated lemon zest. Stir the mass thoroughly and pour three glasses of sifted wheat flour. Next, knead the dough until a uniform and smooth texture.
Then pour two more glasses of flour on the table, make a well and move the dough into it. We start the kneading, gradually grabbing flour from the table, but at the same time we are trying to achieve the plasticity of dough with the least amount of mixed flour - this will determine the softness of the finished buns with jam. The recipe includes five glasses of flour, but perhaps they will need a little less. It all depends on the skills and skill of the baker. The dough should be quite soft, tender, but easily formed into the product. After it is well mixed, we roll it into a lump, put it in a bowl and cover it with a clean towel, put it close to a warm place for an hour and a half so that it is no less than two and a half times larger.
Which jam is better to choose
If, according to the recipe, buns with jam have a closed form, then it does not matter what jam is made for the filling, but if the bun is planned to be open, then it is better to prefer thicker jams and confitures so that they do not boil over the edges when heated. Very good buns with apple and plum jam, as well as strawberry confiture. You can optionally add various spices to the filling: cardamom, cinnamon, vanilla, etc.
We form the product

Prescription dough for buns with jam is quite malleable and plastic, so it can take any form conceived by the baker. You can make classic round products, especially if you are new to working with this type of dough. The filling during such molding will surely remain inside and will not leak out, even if the preparation technology was slightly disturbed. A more elegant way to wrap buns with jam is to give them the shape of a rose.
Move the dough to the table, lightly oiled with vegetable oil, and roll it into a 8 mm thick layer. Using the saucer, cut out the circles of dough and cut each of them from four sides to half.Put two spoons of jam in the center of the circle and fold the two opposite edges into the center: the upper and lower, and then the side, and put a piece of dough vertically. With this form of buns with jam there is a small area in the center, free from dough, and the filling is visible. The finished product can be sprinkled with a mixture of vanilla and powdered sugar.
Some more ways

Forms of buns with jam can be very diverse, it all depends on the culinary fan's fancy and the time he can devote to cooking. Even the most common round buns can be made fun, if you make small cuts with scissors using an already formed clump of dough with a filling inside, imitating needles. The baked bun will turn into a cute hedgehog (especially if you make eyes out of raisins).
Also for baking buns, you can use the form for cupcakes. To do this, you need to form an ordinary round bun with jam inside and place it in a portion of silicone cupcake mold, and on top make a small curl of dough residues. When baking, baking will take a bizarre shape that will appeal to the kids - because they love everything non-standard.
Baking products

According to the recipe buns with jam must undergo a process of proofing before you go to the oven. This is necessary in order for the dough to "fit" a little more, or, in other words, "mature", then when baking the product will become lush, with an airy structure, and therefore very tasty. An average proof time is 15 minutes, then the top of the products should be smeared with a beaten egg (with a small amount of milk) and immediately sent to the oven. Baked buns with jam in the oven at a temperature of 200 degrees Celsius to a rich ruddy color, which on average takes about half an hour.
Calorie content of the finished product
The energy value of the bun with jam made from yeast dough is 312 calories per 100 g weight, so it becomes clear that such food is hardly dietary. People with excess weight or those who are on a diet, you need to use caution baking or refuse it altogether. Of course, you can slightly reduce the caloric content by replacing ryazhenka with water, but the taste of the product will suffer from this. Therefore, there is nothing left but to bake them and enjoy the view, while your household will eat them for both cheeks.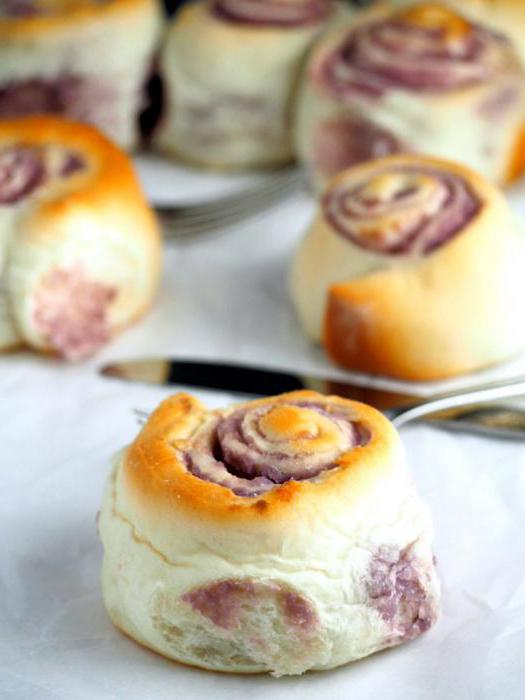 If you follow the recipe, buns with jam turn out very soft, fragrant, with a gentle air test, and even if they stayed the next day, their quality will remain the same.
Related news
Step-by-step recipe for buns with jam on ryazhenka image, picture, imagery