Zucchini for the winter: recipes for every taste
There are many ways to prepare zucchini for the winter. Recipes include preserving them chopped or in salads. Also, this vegetable is especially popular as a summer snack. We offer you to prepare dishes from zucchini: the first is winter harvesting, the second is summer stew that can be preserved, the third is Korean salad.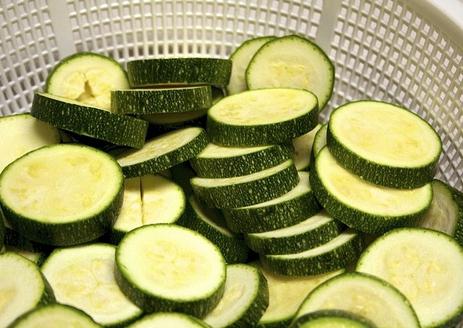 Canned Zucchini
Cooking them in much the same way as canning cucumbers. In the same way, you can prepare zucchini for the winter. Recipes are similar. Washed young squash cut into circles and place in clean jars, on the bottom of which is placed garlic, greens (horseradish leaves and black currants, parsley) and fresh cut hot pepper. Pour several peas of black pepper over the layers and place the green dill sprigs with the seeds. Prepared cans are filled with boiling water, covered with lids and wrapped for one hour. Drain the water, prepare the marinade, respecting the proportions.A 1.5-liter jar needs 50 grams of salt and sugar, which are poured into the water drained from the cans and set on fire. Before pouring boiling brine in each container, you need to pour half a teaspoon of vinegar. Roll up hot cans, turn them over and wrap them to cool them down completely.
Saute - recipe for zucchiniand tomatoes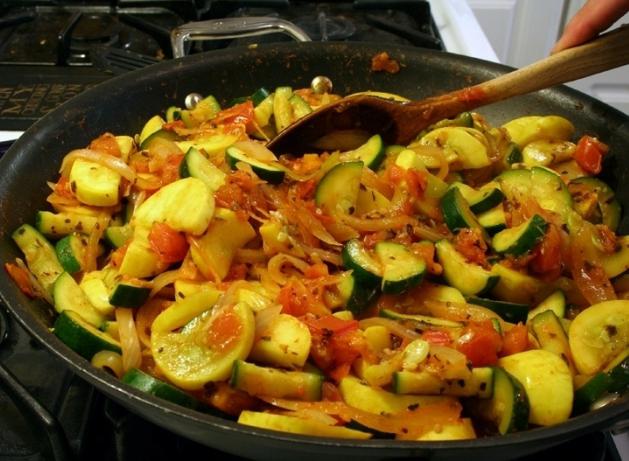 This is a fairly simple recipe, but the dish is universal. In the form of such vegetable stews, zucchini is harvested for the winter. Recipes similar salads differ from each other used spices and spices. To cook the squash sauté, it is better to take young fruits (1 kg). Three or four onions are coarsely chopped and lightly fried in vegetable oil (3-4 tablespoons l.). Zucchini cut into half rings is added to the pan. The mass is stewed to semi-ready on low heat for 20 minutes. Then, to impart a sour taste, the mixture is seasoned with chopped tomatoes (0.5 kg). Add spices (cumin, black pepper), chopped celery and parsley, salt to taste. After another ten minutes of stewing, the dish is ready. For winter preparations, the honeycomb is laid out on clean cans and sterilized.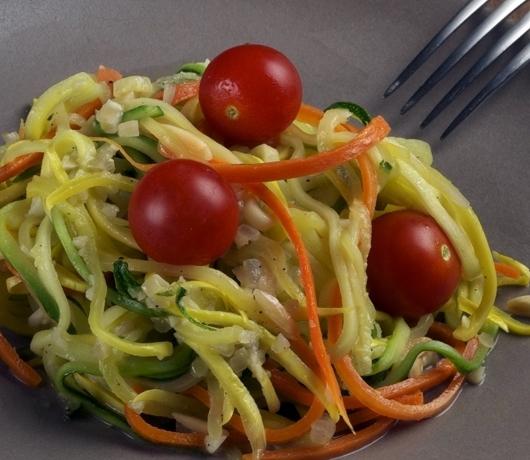 Korean recipe - zucchini with garlic
Gentle sweetish vegetable has a slightly different taste in a Korean style snack. Of course, it's rather unusual that zucchini is the main ingredient in a spicy salad. But still try - and you will not be disappointed! So, we need zucchini. Take young fruits (1 kg) of yellow or green color with a thin skin. Grate them on a special grater and pour boiling water for ten minutes. Throw back in a colander, and after draining, lay out on the table so that they are a little dry. After hot processing, the squash mass will slightly decrease in volume and will not be as watery as raw. Three cloves of garlic and one onion cut and fry lightly in vegetable oil (3 tbsp.), Then add them to the bowl with squash mass. There also put the grated carrots and a pack of special seasonings for Korean salads. If you don't have one, do it yourself: mix two teaspoons of ground coriander, half a teaspoon of paprika, salt, ground black and allspice, one teaspoon of sugar. Of course, if you use homemade seasoning, the taste of the dish will be more intense and spicy.Then pour all the ingredients on top of the hot oil from the pan and two tablespoons of vinegar. Mix it quickly, press down a little, cover with a lid and place in the refrigerator for 10-12 hours. The only pity is that you can not prepare such zucchini for the winter. Recipes of all Korean salads do not provide for long storage and preservation. So enjoy the fresh dishes in the summer season!
Related news
Zucchini for the winter: recipes for every taste image, picture, imagery